Work-life Integration and Mental Health Issues among Higher Education Staff
Siti Aisyah Panatik

Universiti Teknologi Malaysia

Errna Nadhirah Kamalulil

Universiti Teknologi Malaysia

https://orcid.org/0000-0002-7586-1054

Junaidah Yusof

Universiti Teknologi Malaysia

Khairul Azmi Ishak

Universiti Teknologi Malaysia
Keywords:
work-life integration, mental health, higher education staff, SmartPLS
Abstract
The multiple roles and responsibilities assigned to staff members in public tertiary education have led to an imbalance of work and life interface, which eventually affected their mental health. Therefore, this study aims to examine the influence of work-life integration on mental health among staff who are working at a higher education institution in Johore, Malaysia. This study utilized a quantitative approach, in which a set of questionnaires was distributed through an online survey. A total of 137 respondents participated in this study. The data were analyzed using descriptive and inferential statistics via SPSS Version 26 and SmartPLS 3.0. The findings indicated that the level of work-to-life integration and life-to-work integration is ranked between moderate to high, and moderate to low, respectively. The level of mental health is indicated at a moderate level. This study also found that work-life integration has a significantly positive influence on mental health.
References
AIA Vitality. (2019). Malaysia's healthiest workplace. Retrieved from https://healthiestworkplace.aia.com/malaysia/eng/
Ashforth, B. E., Kreiner, G. E., & Fugate, M. (2000). All in a day's work: Boundaries and micro rule transitions. Academy of Management Review, 25(3), 472–491. https://doi.org/10.5465/amr.2000.3363315
Balkan, O. (2014). Work-life balance, job stress and individual performance: An application. International Journal of Management Sciences and Business Research, 3(3), 38–46.
Bartlett, J. &. (2020). Lecturer's workload and productivity in Universities in Delta State. International Journal of Education, Learning and Development, 8(3), 111–136.
Bulger, C. A., Matthews, R. A., & Hoffman, M. E. (2007). Work and personal life boundary management: Boundary strength, work/personal life balance, and the segmentation-integration continuum. Journal of Occupational Health Psychology, 12(4), 365–375. https://doi.org/10.1037/1076-8998.12.4.365
Clark, S. C. (2001). Work cultures and work/family balance. Journal of Vocational Behavior, 58(1), 348–365. https://doi.org/10.1006/jvbe.2000.1759
Cohen, J. (1988). Statistical Power Analysis for the Behavioral Sciences (2nd ed.). Lawrence Erlbaum Associates.
Coman, C., Tiru, L. G., Schmitx, L. M., Stanciu, C., & Bularca, M. C. (2020). Online teaching and learning in higher education during the Coronavirus pandemic: Students' perspective. Sustainability, 12, 1–24. https://doi.org/doi:10.3390/su122410367
Downing-Orr, K. (2013). Rethinking depression: Why current treatments fail. Springer Science & Business Media.
Fernandez-crehuet, J. M., Gimenez-nadal, J. I., & Recio, L. E. R. (2015). The National Work–Life Balance Index ©: The European Case. Social Indicators Research, 128, 341–359. https://doi.org/10.1007/s11205-015-1034-2
Fornell, C., & Larcker, D. F. (1981). Evaluating structural equation models with unobservable variables and measurement error. Journal of Marketing Research, 18(1), 39–50. https://doi.org/10.20546/ijcrar.2016.409.006
Greenhaus, J. H., Collins, K. M., & Shaw, J. D. (2003). The relation between work-family balance and quality of life. Journal of Vocational Behavior, 63(3), 510–531. https://doi.org/10.1016/S0001-8791(02)00042-8
Guest, D. E. (2002). Perspectives on the study of work-life balance. Social Science Information, 41(2), 255–279. https://doi.org/10.1177/0539018402041002005
Hair, J. F., Black, W. C., Rabin, B. J., & Anderson, R. E. (2010). Multivariate Data Analysis. Prentice-Hall.
Hair, J. F., Hult, G. T. M., Ringle, C., & Sarstedt, M. (2017). A primer on partial least squares structural equation modelling (PLS-SEM) (2nd ed.). SAGE Publications Inc.
Hair, J. F., Ringle, C. M., & Sarstedt, M. (2011). PLS-SEM: Indeed a silver bullet. Journal of Marketing Theory and Practice, 19(2), 139–152. https://doi.org/10.2753/MTP1069-6679190202
Hair, J. F., Sarstedt, M., Hopkins, L., & Kuppelwieser, V. G. (2014). Partial least squares structural equation modelling (PLS-SEM): An emerging tool in business research. European Business Review, 26(2), 106–121. https://doi.org/10.1108/EBR-10-2013-0128
Harrington, B., & Ladge, J. J. (2009). Work-life integration: Present dynamics and future directions for organizations. Organizational Dynamics, 38(2), 148–157. https://doi.org/10.1016/j.orgdyn.2009.02.003
Harris, L. M., Cumming, S. R., & Campbell, A. J. (2006). Stress and psychological well-being among allied health professionals. Journal of Allied Health, 35(4), 198–207.
Hassim, I. N., & Arma, N. (2016). Occupational stress and its associated factors among academician in a research university, Malaysia. Malaysian Journal of Public Health Medicine, 16(1), 81–91.
Kabiri, S., Cochran, J. K., Stewart, B. J., Sharepour, M., Rahmati, M. M., & Shadmanfaat, S. M. (2018). Doping among professional athletes in Iran: A test of akers's social learning theory. International Journal of Offender Therapy and Comparative Criminology, 62(5), 1384–1410. https://doi.org/10.1177/0306624X16680043
Kalpna, D., & Malhotra, M. (2019). Relationship of work-life balance with occupational stress among female personnel of Central Industrial Security Force, India. International Research Journal of Engineering and Technology, 6(7), 1380–1387.
Khairun Nisa K., & Dewi A. S. (2016). Examining facets of emotional exhaustion in the Malaysian service industry. International Journal of Business and Management, 7(4), 82–95.
Khoo, E. J., Aldubai, S., Ganasegeran, K., Lee, B. X. E., Nurul A. Z., & Tan, K. K. (2017). Emotional exhaustion is associated with work related stressors: Across-sectional multicenter study in Malaysian public hospitals. Archivos Argentino Pediatra, 115(3), 212–219.
Kosnin, A. M., & Jantan, S. (2010). Tahap stres dan tahap kepuasan kerja dalam kalangan pensyarah Universiti Teknologi Malaysia. https://doi.org/10.1016/s0262-4079(18)30574-8
Kossek, E. E., & Lautsch, B. A. (2012). Work-family boundary management styles in organizations. Organizational Psychology Review, 2(2), 152–171. https://doi.org/10.1177/2041386611436264
Kreiner, G. E. (2006). Consequences of work-home segmentation or integration: A person-environment fit perspective. Journal of Organizational Behaviour, 27(4), 485–507. https://doi.org/10.1002/job.386
Lahti, A. (2017). The Perceived Impact of Flexible Working Hours on Work-life Balance in the Educational Sector in Finland [Aalto University]. https://core.ac.uk/download/pdf/84756547.pdf
Lal, R. S., & Singh, A. P. (2015). Does job stress play any role in work motivation of university clerical employees ? International Research Journal of Social Sciences, 4(11), 7–11.
Leduc, C., Houlfort, N., Bourdeau, S., & Grant, P. (2016). Work-life balance: The good and the bad of boundary management. International Journal of Psychological Studies, 8(1), 133–146. https://doi.org/10.5539/ijps.v8n1p133
Lobel, M., & Dunkel-schetter, C. (1990). Conceptualizing stress to study effects on health: Environmental, perceptual and emotional components. Anxiety Research, 3, 213–230.
Lovibond, S. H., & Lovibond, P. F. (1995). Manual for the depression, anxiety and stress scales. Psychology Foundation of Australia.
Mellner, C., Aronsson, G., & Kecklund, G. (2015). Boundary management preferences, boundary control, and work-life balance among full-time employed professionals in knowledge-intensive, flexible work. Nordic Journal of Working Life Studies, 4(4), 7-23. https://doi.org/10.19154/njwls.v4i4.4705
Mukosolu, O., Ibrahim, F., Rampal, L., & Ibrahim, N. (2015). Prevalence of job stress and its associated factors among Universiti Putra Malaysia staff. Malaysian Journal of Medicine and Health Sciences, 11(1), 27–38.
Pavot, W., & Diener, E. (2009). Assessing well-being. The collected works of Ed Diener. Springer, 39, 101–117. https://doi.org/10.1007/978-90-481-2354-4
Prime Minister Department. (2015). Eleventh Malaysia Plan 2016-2020: Anchoring Growth on People. https://doi.org/10.1007/s10934-016-0189-9
Razak, M. I., Yusof, N. M., Azidin, R. A., Latif, M. M., & Ismail, I. (2014). The impact of work stress towards work life balance. International Journal of Economics, Commerce and Management, 2(11), 1–16.
Suhaimi, M. M., & Nasrudin, B. (2018). Relationship between psychological stress and mental health among young lecturers. The European Proceedings of Social & Behavioral Sciences, 909–919. https://doi.org/https://dx.doi.org/10.15405/epsbs.2018.07.02.96
Suifan, T. S., Abdallah, A. B., & Diab, H. (2016). The influence of work life balance on turnover intention in private hospitals: The mediating role of work life conflict. European Journal of Business and Management, 8(20), 126–139. www.iiste.org
Sunday, O. D., & Rosemary, E. (2017). Managing workload of UTM staff for job effectiveness in Nigerian Universities: A study of University of Port Harcourt in South-South Geopolitical Zone of Nigeria. International Journal of Humanities, Social Sciences and Education, 4(12), 102–108. https://doi.org/10.20431/2349-0381.0412013
Swift, P., Cyhlarova, E., Goldie, I., & C. O'Sulli. (2014). Living with anxiety: Understanding the role and impact of anxiety in our lives.
Tran, B. X., Dang, A. K., Truong, N. T., Ha, G. H., Nguyen, H. L. T., Do, H. N., Nguyen, T. Q., Latkin, C. A., Ho, C. S. H., & Ho, R. C. M. (2018). Depression and quality of life among patients living with HIV/AIDS in the era of universal treatment access in Vietnam. International Journal of Environmental Research and Public Health, 15(12), 1–14. https://doi.org/10.3390/ijerph15122888
Wepfer, A. G., Allen, T. D., Brauchli, R., Jenny, G. J., & Bauer, G. F. (2018). Work-life boundaries and well-being: Does work-to-life integration impair well-being through lack of recovery? Journal of Business and Psychology, 33(6), 727–740. https://doi.org/10.1007/s10869-017-9520-y
Zentner, M., & Eerola, T. (2010). Self-report Measures and Models. In P. N. Juslin & J. A. Sloboda (Eds.), Handbook of Music and Emotion. Theory, Research, Applications (pp. 187–221). Oxford University Press.
Zheng, C., Molineux, J., Mirshekary, S., & Scarparo, S. (2015). Developing individual and organisational work-life balance strategies to improve employee health and wellbeing. Employee Relations, 37(3), 354–379. https://doi.org/10.1108/ER-10-2013-0142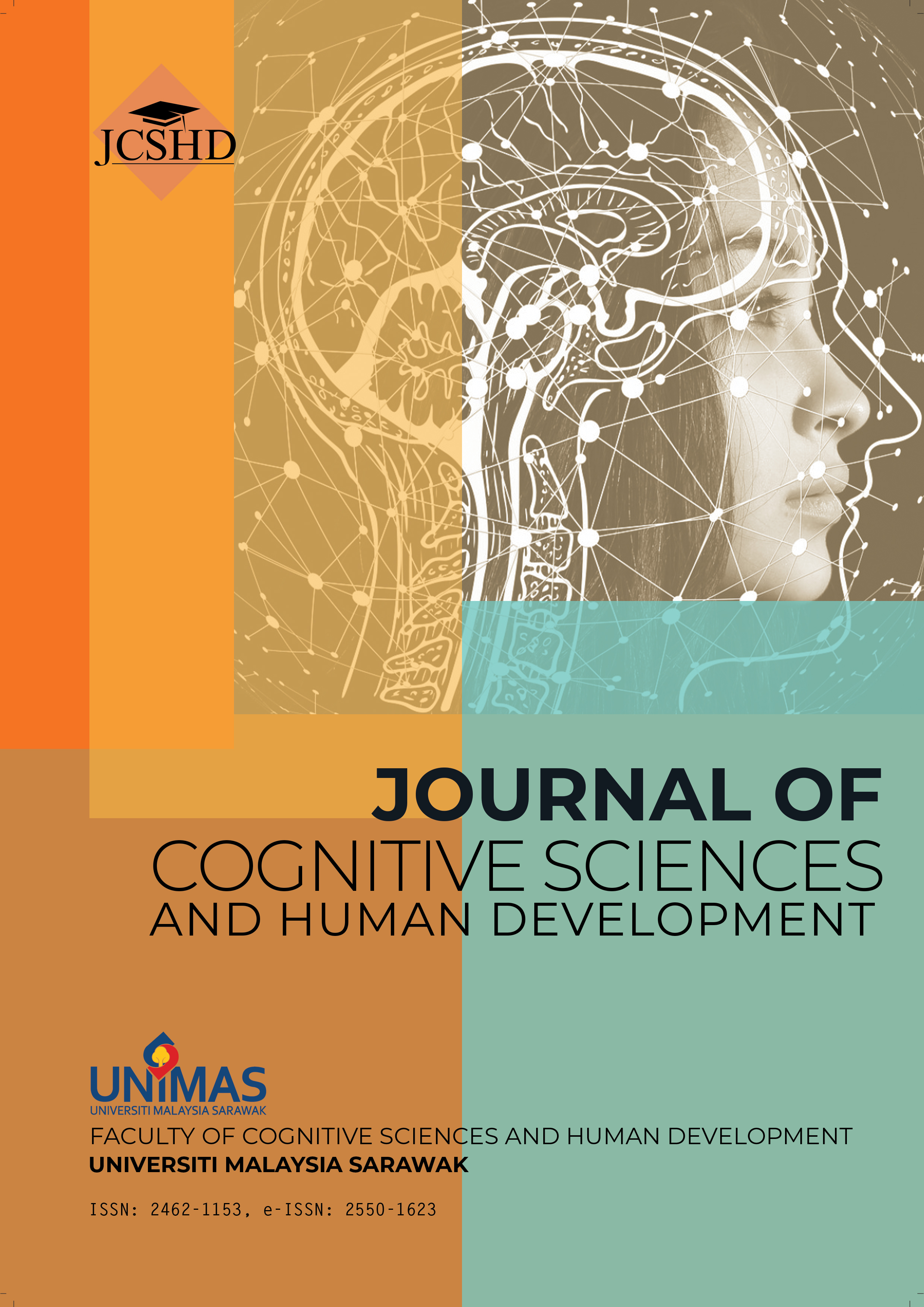 How to Cite
Panatik, S. A., Kamalulil, E. N., Yusof, J., & Ishak, K. A. (2022). Work-life Integration and Mental Health Issues among Higher Education Staff. Journal of Cognitive Sciences and Human Development, 8(2), 139-156. https://doi.org/10.33736/jcshd.3742.2022
Copyright (c) 2022 UNIMAS Publisher
This work is licensed under a Creative Commons Attribution-NonCommercial-ShareAlike 4.0 International License.
Copyright Transfer Statement for Journal
1) In signing this statement, the author(s) grant UNIMAS Publisher an exclusive license to publish their original research papers. The author(s) also grant UNIMAS Publisher permission to reproduce, recreate, translate, extract or summarize, and to distribute and display in any forms, formats, and media. The author(s) can reuse their papers in their future printed work without first requiring permission from UNIMAS Publisher, provided that the author(s) acknowledge and reference publication in the Journal.

2) For open access articles, the author(s) agree that their articles published under UNIMAS Publisher are distributed under the terms of the CC-BY-NC-SA (Creative Commons Attribution-Non Commercial-Share Alike 4.0 International License) which permits unrestricted use, distribution, and reproduction in any medium, for non-commercial purposes, provided the original work of the author(s) is properly cited.

3) For subscription articles, the author(s) agree that UNIMAS Publisher holds copyright, or an exclusive license to publish. Readers or users may view, download, print, and copy the content, for academic purposes, subject to the following conditions of use: (a) any reuse of materials is subject to permission from UNIMAS Publisher; (b) archived materials may only be used for academic research; (c) archived materials may not be used for commercial purposes, which include but not limited to monetary compensation by means of sale, resale, license, transfer of copyright, loan, etc.; and (d) archived materials may not be re-published in any part, either in print or online.

4) The author(s) is/are responsible to ensure his or her or their submitted work is original and does not infringe any existing copyright, trademark, patent, statutory right, or propriety right of others. Corresponding author(s) has (have) obtained permission from all co-authors prior to submission to the journal. Upon submission of the manuscript, the author(s) agree that no similar work has been or will be submitted or published elsewhere in any language. If submitted manuscript includes materials from others, the authors have obtained the permission from the copyright owners.

5) In signing this statement, the author(s) declare(s) that the researches in which they have conducted are in compliance with the current laws of the respective country and UNIMAS Journal Publication Ethics Policy. Any experimentation or research involving human or the use of animal samples must obtain approval from Human or Animal Ethics Committee in their respective institutions. The author(s) agree and understand that UNIMAS Publisher is not responsible for any compensational claims or failure caused by the author(s) in fulfilling the above-mentioned requirements. The author(s) must accept the responsibility for releasing their materials upon request by Chief Editor or UNIMAS Publisher.

6) The author(s) should have participated sufficiently in the work and ensured the appropriateness of the content of the article. The author(s) should also agree that he or she has no commercial attachments (e.g. patent or license arrangement, equity interest, consultancies, etc.) that might pose any conflict of interest with the submitted manuscript. The author(s) also agree to make any relevant materials and data available upon request by the editor or UNIMAS Publisher.