Relationship between Selected Leadership Style and Employee Stress Level at Workplace
Choi Mui Fong

Florianna Lendai Michael Mulok

Helmi Sumilan
Abstract
There has been only limited research focused on the assumption of leader stress and affective well-being. Hence, this study aims to determine the relationship between leadership style and employee stress level at workplace. This study primarily took a quantitative approach for data collection and analysis. Questionnaires were distributed at three branches of banks located in Kuching, Sarawak and to their employees. The findings show that there is a relationship between autocratic leadership style and employee stress level at workplace. The strength of the relationship is weak due to r = .461, p = .002. The findings also show that democratic leadership and transformational leadership have no relationship with the employee stress level at workplace.
Keywords: leadership style; employee stress
References
Alkahtani, A. H., Abu-Jarad, I., Sulaiman, M., & Nikbin, D. (2011). The impact of personality and leadership
styles on leading change capability of Malaysian managers. Australian Journal of Business and Management Research,1(2), 70–99.
Bhatti, N., Maitlo, G. M., Shaikh, N., Hashmi, M. A., & Shaikh, F. M.
(2012). The impact of autocratic and democratic leadership style on
job satisfaction. International Business Research, 5(2), 192–201.
Casse, P., & Claudel, P. (2011). Leadership styles : A powerful model. Training Journal, January, 46–51.
Che Ngah, H., Fazli Musa, M., Noreen Rosli, Z., Norisaifulruddin, M. B., M., Mohd, Z. A., Ariffin, A., &
Krishnan, S. N. G. (2013). Leadership styles of general managers and job satisfaction antecedent of middle managers in 5-star hotels in Kuala Lumpur, Malaysia. Asian Social Science, 9(15), 220–226.
Chen, J. C., & Silverthorne, C. (2005). Leadership effectiveness, leadership style and employee readiness.
Leadership & Organization Development Journal, 26(4), 280–288.
Choi, S. (2007). Democratic leadership : The lessons of exemplary models
for democratic governance. International Journal of Leadership
Studies, 2, 243–262.
Chua, Y. P. (2012). Mastering research methods. Malaysia: McGraw Hill Education.
Colligan, T.W., & Higgins, E. M. (2005). Workplace stress: Etiology and
consequences. Journal of Workplace Behavioral Health, 21(2),
-97.
Darling, J. R., & Heller, V. L. (2011). The key for effective stress management: Importance of responsive
leadership in organizational development. Organization Development Journal, 20(1), 9-26.
Dhamodharan, K., & Arumugasamy, G. (2011). Effect of occupational
stress on executives' leadership styles. Public Policy and Administration Research, 1(4), 1-7.
Erkutlu, H. V., & Chafra, J. (2006). Relationship between leadership power
bases and job stress of subordinates
from boutique hotels. Management Research News, 29(5), 285-297.
Fitzgerald, S., & Schutte, N. S. (2010).
Increasing transformational leadership through enhancing selfefficacy. Journal of Management Development, 29(5), 495–505.
Gill, A. S., Flaschner, A. B., & Shachar, M. (2006). Mitigating stress and
burnout by implementing transformational-leadership. International
Journal of Contemporary Hospitality Management, 18(6), 469-481.
Gonos, J., & Gallo, P. (2013). Model for
leadrship style evaluation. Management, 18(2), 157-168.
Gurt, J. G., Schwennen, C., & Elke, G.
(2011). Health-specific leadership: Is there an association between leader consideration for the health of employees and their stain and well being?. Work and Stress, 25 (2), 108-127.
Islam, T., Rehman, S. U., & Ahmed, I. (2013). Investigating the mediating
role of organizational politics between leadership style and followers' behavioral outcomes. Business
Strategy Series, 14(2), 80–96.
Jayasingam, S., & Cheng, M. Y. (2009). Leadership style and perception of effectiveness: Enlightening Malaysian managers. Asian Social Science,
(2), 54–65.
Johansson, O. (2004). A democratic, learning and communicative leadership?. Journal of Educational Administration, 42(6), 697–707.
Krejcie, R. V., & Morgan, D. W. (1970)Determining sample size for research activities. Educational &
Psychological Measurement, 30,
-610.
Leung, M., Chan, Y. S. I., & Dongyu, C. (2011). Structural linear relationships between job stress, burnout,
physiological stress, and performance of construction project managers. Engineering, Construction
and Architectural Management, 18(3), 312–328.
Lin, W., Wang, L., & Chen, S. (2013). Abusive supervision and employee well-being: The moderating effect
of power distance orientation. Applied Psychology, 62(2), 308–329.
Lundqvist, D., Eriksson, A. F., & Ekberg,
K. (2012). Exploring the relationship between managers' leadership
and their health. Work (Reading,
Mass.), 42(3), 419–27.
Martinette Jr. C. V. M. (2002). Learning
organizations and leadership style.
An applied research project submitted to the National Fire Academy, Virginia, (September), 1–58.
Malos, R. (n.d). Leadership styles.
(Unpublished doctoral dissertation).
University of Resita, Romania.
Malos, R. (2012). Leadership styles. Annals of Eftimie Murgu University
Resita, Fascicle II, Economic Studies, 421-426.
Maqsood, S. (2013). Manager's leadership
styles and employee's job satisfaction. Human and Social Science
Research, 1(2), 139-144.
Mendez, R. M., Munoz, J. G. S. V., & Munoz, M. A. M. V. (2013). Leadership styles and organizational effectiveness in small construction
business in Puebla, Mexico. Global
Journal of Business Research, 7(5),
-57.
Mulki, J. P., Jaramillo, F., & Locander, W.
B. (2006a). Emotional exhaustion
and organizational deviance: Can
the right job and a leader's style
make a difference? Journal of Business Research, 59(12), 1222–1230.
Mansor, N., Kamarudin, A., & Zakaria, N.
H. (2012). Employees' satisfaction
in selecommunication industries: A
case of Telekom Malaysia Berhad.
European Journal of Scientific Research, 96(1), 24-37.
Munir, F., Nielsen, K., & Carneiro, I. G.
(2010). Transformational leadership and depressive symptoms: a
prospective study. Journal of Affective Disorders, 120(1-3), 235-239.
Naile, I., & Selesho, J. M. (2014). The role
of leadership in employee motivation. Mediterranean Journal of Social Sciences, 5(3), 175-182.
Nami, A., Mansouri, M., Dehnavi, A.,
& Bandali, E. (2013). Relationship between coaching leadership
styles and athletic stress in team
sports from universiti of Tehran.
European Journal of Experimental
Biology, 3(2), 48-53.
Nyberg, A., Holmberg, I., Bernin, P., Alderling, M., Akerblom, S., Widerszal-Bazyl, M., Magrin, M. E.,
Hasselhorn, H., Milczarek, M.,
D'Angelo, G., Denk, M., Westerlund, H., & Theorell, T. (2011).
Destructive managerial leadership and psychological well-being
among employees in Swedish,
Polish, and Italian hotels. Work,
, 267-281.
Ojokuku, R. M., Odetayo, T. A., & Sajuyigbe, A. S. (2012). Impact of
leadership style on organizational
performance : A case study of Nigerian Banks. American Journal of
Business and Management, 1(4),
–207.
Rao, M. S. (2013). Soft leadership: A new direction to leadership. Industrial
and Commercial Training, 45(3),
–149.
Rohmann, A., & Rowold, J. (2009). Gender and leadership style: A field
study in different organizational
contexts in Germany. Equal Opportunities International, 28(7),
–560.
Romanowska, J., Larsson, G., & Theorell,
T. (2013). Effects on leaders of an
art-based leadership intervention.
Journal of Management Development, 32(9), 1004–1022.
Rusli Ahmad , Hasbee Usop, Sopian Bujang, Azman Ismail, & Nur Naha
Abu Mansor (2014), Conducting
research in social sciences, humanities, and management studies.
A stey by step guide. Malaysia, RS
Publishing House.
Shafie, B., Baghersalimi, S., & Barghi, V.
(2013). The relationship between
leadership style and employee performance. Singaporean Journal of
Business Economics, and Management Studies, 2(5), 21-29.
Skakon, J., & Nielsen, K., Borg, V., &
Guzman, J. (2010). Are leaders'
well-being, bahaviours and style
associated with the affective wellbeing of their employees? A systematic review of three decades
of research. Work & Stress, 24(2),
-139.
Voon, M. L., Lo, M. C., Ngui, K. S., &
Ayob, N. B. (2011). The influence of leadership styles on employees' job satisfaction in public
sector organizations in Malaysia.
International Journal of Business,
Management and Social Sciences,
(1), 24-32.
Yao, Y.H., Fan, Y.Y., Guo, Y.X., & Li, Y.
(2014a). Leadership, work stress
and employee behavior. Chinese
Management Studies, 8(1), 109–
Zehir, C., Sehitoglu, Y., & Erdogan, E.
(2012). The effect of leadership
and supervisory commitment to
organizational performance. Procedia - Social and Behavioral Sciences, 58, 207–216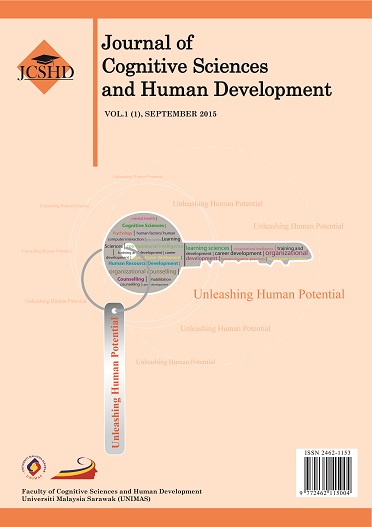 How to Cite
Mui Fong, C., Michael Mulok, F. L., & Sumilan, H. (2015). Relationship between Selected Leadership Style and Employee Stress Level at Workplace. Journal of Cognitive Sciences and Human Development, 1(1), 11-21. https://doi.org/10.33736/jcshd.184.2015
Copyright Transfer Statement for Journal
1) In signing this statement, the author(s) grant UNIMAS Publisher an exclusive license to publish their original research papers. The author(s) also grant UNIMAS Publisher permission to reproduce, recreate, translate, extract or summarize, and to distribute and display in any forms, formats, and media. The author(s) can reuse their papers in their future printed work without first requiring permission from UNIMAS Publisher, provided that the author(s) acknowledge and reference publication in the Journal.

2) For open access articles, the author(s) agree that their articles published under UNIMAS Publisher are distributed under the terms of the CC-BY-NC-SA (Creative Commons Attribution-Non Commercial-Share Alike 4.0 International License) which permits unrestricted use, distribution, and reproduction in any medium, for non-commercial purposes, provided the original work of the author(s) is properly cited.

3) For subscription articles, the author(s) agree that UNIMAS Publisher holds copyright, or an exclusive license to publish. Readers or users may view, download, print, and copy the content, for academic purposes, subject to the following conditions of use: (a) any reuse of materials is subject to permission from UNIMAS Publisher; (b) archived materials may only be used for academic research; (c) archived materials may not be used for commercial purposes, which include but not limited to monetary compensation by means of sale, resale, license, transfer of copyright, loan, etc.; and (d) archived materials may not be re-published in any part, either in print or online.

4) The author(s) is/are responsible to ensure his or her or their submitted work is original and does not infringe any existing copyright, trademark, patent, statutory right, or propriety right of others. Corresponding author(s) has (have) obtained permission from all co-authors prior to submission to the journal. Upon submission of the manuscript, the author(s) agree that no similar work has been or will be submitted or published elsewhere in any language. If submitted manuscript includes materials from others, the authors have obtained the permission from the copyright owners.

5) In signing this statement, the author(s) declare(s) that the researches in which they have conducted are in compliance with the current laws of the respective country and UNIMAS Journal Publication Ethics Policy. Any experimentation or research involving human or the use of animal samples must obtain approval from Human or Animal Ethics Committee in their respective institutions. The author(s) agree and understand that UNIMAS Publisher is not responsible for any compensational claims or failure caused by the author(s) in fulfilling the above-mentioned requirements. The author(s) must accept the responsibility for releasing their materials upon request by Chief Editor or UNIMAS Publisher.

6) The author(s) should have participated sufficiently in the work and ensured the appropriateness of the content of the article. The author(s) should also agree that he or she has no commercial attachments (e.g. patent or license arrangement, equity interest, consultancies, etc.) that might pose any conflict of interest with the submitted manuscript. The author(s) also agree to make any relevant materials and data available upon request by the editor or UNIMAS Publisher.