Exploring Managers' Perspective on Factors Affecting Generation Y Retention
Dideana Thompson

Universiti Malaysia Sarawak

Agatha Lamentan Muda

Universiti Malaysia Sarawak
Keywords:
employee retention, generation Y
Abstract
The study explores factors behind Generation Y employees' retention from the perspective of managers in a financial services sector. A qualitative method was employed, by interviewing eight managers as informants. The results show ten factors affecting Generation Y employees' retention are compensation and pay, personal development, job security, job satisfaction, work-life balance, reward and recognition, training, leadership, relationship and communication, and work environment. Seven main challenges to retain Generation Y employees identified are loyalty, their love for a challenging job, communication, strategy, working style, satisfaction, and traits. The study discusses implications and suggestions for organisational level strategies to retain Generation Y employees.
References
Abubakar, R., Chauhan, A., & Kura, K. (2014). Relationship between Perceived Organizational Politics, Organizational Trust, Human Resource Management Practices and Turnover Intention among Nigerian Nurses. Management Science Letters, 4(9), 2031-2048. doi: 10.5267/j.msl.2014.8.018
Afroz, N. N. (2018). Effects of training on employee performance-A study on the Banking sector, Tangail Bangladesh. Global Journal of Economics and Business, 4(1), 111-124.
Aguenza, B. B., & Som A. P. M. (2012). Motivational Factors of Employee Retention and Engagement in Organisations. International Journal of Advances in Management and Economics, 1(6), 88-95.
Allen, D. G., Shore, L. M., & Griffeth, R. W. (2003). The Role of Perceived Organizational Support and Supportive Human Resource Practices in the Turnover Process. Journal of Management, 29(1), 99-118. doi:10.1177/014920630302900107
AL-Muslawi, I. A., & Hamid, A. A. (2019). External and internal factors affecting student's academic performance. The Social Sciences, 14 (4), 155-168. doi: 10.36478/sscience.2019.155.168
Azeez, S. A. (2017). Human Resource Management Practices and Employee Retention: A review of literature. Journal of Economics, Management and Trade, 18(2), 1- 10. doi:10.9734/JEMT/2017/32997
Baharin, N., & Wan Hanafi, W., N. (2018). Effects of Talent Management on Employee Retention: A case of Hospitality Industry, Global Business and Management Research: An International Journal, 10(3), 697–707.
Banerjee, A. (2019). Failure of Employee Retention and Its Consequences on Organization Through Content Analysis. International Journal of Research - Granthaalayah, 7(3), 200-207. doi:10.5281/zenodo.2631378.
Beck, M. (2005). Exceptional leadership inspires the best efforts in others. Retrieved September 27, 2005, from http://www.barrelpublishing.com/articles/exceptional leadership inspires the best effort in others, shtml
Bergmann, T. J. & Scarpello, V. G. (2001) Compensation Decision Making (4th ed.). Harcourt, Fort Worth, TX.
Cennamo, L., & Gardner, D. (2011). Generational differences in work values, outcomes and person-organisation values fit. IEEE Engineering Management Review, 39(2), 24–36, doi: 10.1109/EMR.2011.5876170
Chepkosgey, C. S., Namusonge, G. S., & Makokha, E. N. (2019). Training Practice, a Perspective of Employee Retention in Firms. International Journal of Academic Research in Business and Social Sciences, 9(7), 495–509. doi: 10.6007/IJARBSS/v9-i7/6141
Cropanzano, R., & Mitchell, M. S. (2005). Social Exchange Theory: An interdisciplinary review. Journal of Management, 31(6), 874-900. doi: 10.1177/0149206305279602
Das, B. L., & Baruah, D. (2013). Employee Retention: A review of literature. IOSR Journal of Business and Management, 14(2), 8-16. doi:10.9790/487X-1420816
De Hauw, S., & De Vos, A. (2010). Millennials' career perspective and psychological contract expectations: does the recession lead to lowered expectations? Journal of Business and Psychology, 25(2), 293-302. doi: 10.1007/s10869-010-9162-9
Dwomoh, G., & Frempong E. O. (2017) Factors Influencing Employees' Retention in the Banking Industry of Ghana. Review of Public Administration and Management, 5(3), 1-7. doi:10.4172/2315-7844.1000223
Eisenberger, R., Stinglhamber, F., Vandenberghe, C., Sucharski, I. L., & Rhoades, L. (2002). Perceived Supervisor Support: Contributions to Perceived Organizational Support and Employee Retention. Journal of Applied Psychology, 87(3), 565. doi: 10.1037/0021-9010.87.3.565
Fadilah, P., Maniam, K., & Nafis, A. (2015). Assessing gen Y impact on organisational performance: An analysis from the top management perspective. Journal of Administrative Science, 12(1), 47-59.
Falahat, M., Gee, S.K., & Liew, C.M. (2019). A Model for Turnover Intention: Banking industry in Malaysia. Asian Academy of Management Journal, 24(2), 79–91. doi:10.21315/aamj2019.24. s2.6
Gharib, M.N., Kahwaji, A.T., & Elrasheed, M.O. (2017). Factors Affecting Staff Retention Strategies Used in Private Syrian Companies During the Crisis. International Review of Management and Marketing. 7(2), 202-206.
Gupta, V. (2019). Talent management dimensions and its relationship with Generation Y employee's intention to quit: an Indian hotel perspective. International Journal of Tourism Cities, 6(3), 583-600. doi: 10.1108/IJTC-02-2019-0018
Hafiza, N. S., Shah, S. S., Jamsheed, H., & Zaman, K. (2011). Relationship between rewards and employee's motivation in the non-profit organisations of Pakistan. Business Intelligence Journal, 4(2), 327-334.
Hassan, M., Jambulingam, M., Alam, M. N., & Islam, S. (2019). Redesigning the retention strategy against the emerging turnover of generation Y: revisiting the long-standing problems from the 20th to 21st century. International Journal of Entrepreneurship, 23(2), 1-16. doi: 10.1177/0972150920926966
Hurst, J. L., & Good, K. (2009). Generation Y and career choice. Career Development International, 14(6), 570–593. doi: 10.1108/13620430910997303
Idris, A. (2014). Flexible working as an employee retention strategy in developing countries: Malaysian bank managers speak. Journal of Management Research, 14(2), 71.
Irshad, M., & Afridi, F. (2007). Factors Affecting Employees Retention: Evidence from literature. Abasyn Journal of Social Sciences, 4(2), 307-339.
Kalali, N. S. (2015). A Fuzzy Inference System for Supporting the Retention Strategies of Human Capital. Procedia - Social and Behavioral Sciences, 207, 344– 353. doi:10.1016/j.sbspro.2015.10.104
Kaliannan, M., Abraham, M., & Ponnusamy, V. (2016). Effective talent management in Malaysian SMEs: A proposed framework. The Journal of Developing Areas, 50(5), 393–401.
Karve, S., & Dias, M. S. (2016). HRM practices and retention of employees in the hotel industry in South Mumbai. International Journal of Multidisciplinary Approach and Studies, 3(3), 13–19.
Kossivi, B., Xu, M., & Kalgora, B. (2016). Study on Determining Factors of Employee Retention. Open Journal of Social Sciences, 4(5), 261-268. doi:10.4236/jss.2016.45029
Lavanya, B. L. (2017). A Study on Employee Attrition: Inevitable yet Manageable. International Journal of Business and Management Invention, 6(9), 38-50.
Lee, Y., & Sabharwal, M. (2014). Education–Job Match, Salary, and Job Satisfaction Across the Public, Non-Profit, and For-Profit Sectors: Survey of recent college graduates. Public Management Review, 18(1), 40–64. doi:10.1080/14719037.2014.957342
Lobburi, P. (2011). The Influence of Organisational and Social Support on Turnover Intention in Collectivist Contexts. Journal of Applied Business Research, 28(1), 93-104. doi:10.19030/jabr.v28i1.6687
Luscombe, J., Lewis, I., & Biggs, H. C. (2013). Essential Elements for Recruitment and Retention: Generation Y. Education and Training, 55(3), 272-290. doi:10.1108/00400911311309323
Mahadi, N., Woo, N. M. F., Baskaran, S., & Yaakop, A. Y. (2020). Determinant Factors for Employee Retention: Should I Stay? International Journal of Academic Research in Business and Social Sciences, 10(4), 201–213. doi: 10.6007/IJARBSS/v10-i4/7120
Majid, M. A. A., Samsudin, A., Noorkhizan, M. H. I., Noor, S. N. A. M., & Zuffri, N. S. H. A. (2017). Career Development, Job Security and Employee Loyalty at a Luxury Resort in Terengganu, Malaysia. International Journal of Academic Research in Business and Social Sciences, 7(10), 667-674. doi: 10.6007/IJARBSS/v7-i10/3422
Mamun, C. A., & Hasan, M. N. (2017). Factors Affecting Employee Turnover and Sound Retention Strategies. Problems and Perspectives in Management, 15(1), 63-71. doi:10.21511/ppm.15(1).2017.06
Mbugua, G. M., Waiganjo, E. W., & Njeru, A. (2015). Relationship between Strategic Performance Management and Employee Retention in Commercial Banks in Kenya. International Journal of Business Administration, 6(1), 53-62. doi:10.5430/ijba.v6n1p53
Meuse, K. P., & Mlodzik, K. J. (2010). A second look at generational differences in the workforce: Implications for HR and talent management. People and Strategy, 33(2), 50–58.
Mngomezulu, N., Challenor, M., Munapo, E., Mashau, P., & Chikandiwa, C. (2015). The impact of recognition on retention of good talent in the workforce. Journal of Governance and Regulation, 4(4), 372-379. doi: 10.22495/jgr_v4_i4_c3_p2
Naim, M. F., & Lenka, U. (2018). Development and retention of Generation Y employees: a conceptual framework. Employee Relations, 40 (2). 433-455. doi: 10.1108/ER-09-2016-017
Nawaz, M., & Pangil, F. (2016). The Relationship between Human Resource Development Factors, Career Growth and Turnover Intention: The mediating role of organisational commitment. Management Science Letters, 6,157-176. doi:10.5267/j.msl.2015.12.006
Pittino, D., Visintin, F., Lenger, T., & Sternad, D. (2016). Are High-Performance Work Practices Really Necessary in Family SMEs? An Analysis of the Impact on Employee Retention. Journal of Family Business Strategy, 7(2), 75–89. doi:10.1016/j.jfbs.2016.04.002
Puspanathan, C. A., Ramendran, C., Muthurajan, P., & Singh, N. B. (2017). Perceptions of Generation Y Undergraduate Students on Career Choices and Employment Leadership: A Study on Private Higher Education Institutions in Selangor. Malaysian Online Journal of Educational Sciences, 5(3), 46-59.
Rani, N., & Samuel, A. (2016). A study on generational differences in work values and person organisation fit and its effect on turnover intention of Generation Y in India. Management Research Review, 39(12), 1695–1719.
Rice, E. (2005). The evolving role of the hr executive. Retrieved April 9, 2006, from http://www.innovativeemploveesolutions.com/knowledge/articles 04/article 45 strategic HR.html
Roy, B. (2018). Factors Determining Employee Retention: A Study in Banks. International Journal of Management Studies, V (Special Issue 2), 101. doi:10.18843/ijms/v5is2/13
Queiri, A., & Dwaikat, N. (2016). Factors affecting Generation Y employees' intention to quit in Malaysian's business process outsourcing sector. Journal of Sustainable Development, 9(2), 78. doi: 10.5539/jsd.v9n2p78
Queiri, A., Yusoff, W. F. W., & Dwaikat, N. (2015). Explaining Generation-Y employees' turnover in the Malaysian context. Asian Social Science, 11(10), 126. doi: 0.5539/ass.v11n10p126
Shih, W., & Allen, M. (2007). Working with Generation‐D: adopting and adapting to cultural learning and change. Library Management, 28 (1/2), 89-100. doi: 10.1108/01435120710723572
Simoneaux, S., & Stroud, C. (2010). Bridging the generation gaps in the retirement services workplace. Journal of Pension Benefits, 17 (2), 66–75.
Stirpe, L., & Zárraga-Oberty, C. (2017). Are High-Performance Work Systems Always a Valuable Retention Tool? The Roles of Workforce Feminization and Flexible Work Arrangements. European Management Journal, 35(1), 128–136. doi:10.1016/j.emj.2016.04.002
Wiggins, J. E. (2016). Exploring Generation Y Leaders' Motivation and Retention Within the Service Industry. Walden Dissertations and Doctoral Studies. Retrieved from https://scholarworks.waldenu.edu/cgi/viewcontent.cgi?article=4116&context=dissertations
Wikhamn, W., & Hall, A. T. (2012). Social Exchange in a Swedish Work Environment. International Journal of Business and Social Science, 3(23), 56-64.
Younas, M., & Waseem Bari, M. (2020). The relationship between talent management practices and retention of generation 'Employees: the mediating role of competency development. Economic research-Ekonomska istraživanja, 33(1), 1330-1353. doi: 10.1080/1331677X.2020.1748510
Zainee, I. A., & Puteh, F. (2020). Corporate social responsibility impact on talent retention among Generation Y. Revista de Gestão, 27 (4), 369-392. doi: 10.1108/REGE-06-2019-0070
Zee, N. Y., & Yuk, F. C. (2016). Issues and Challenges Faced by Generation X While Managing Generation Y. International Journal of Business and Social Science, 7(2), 167-170.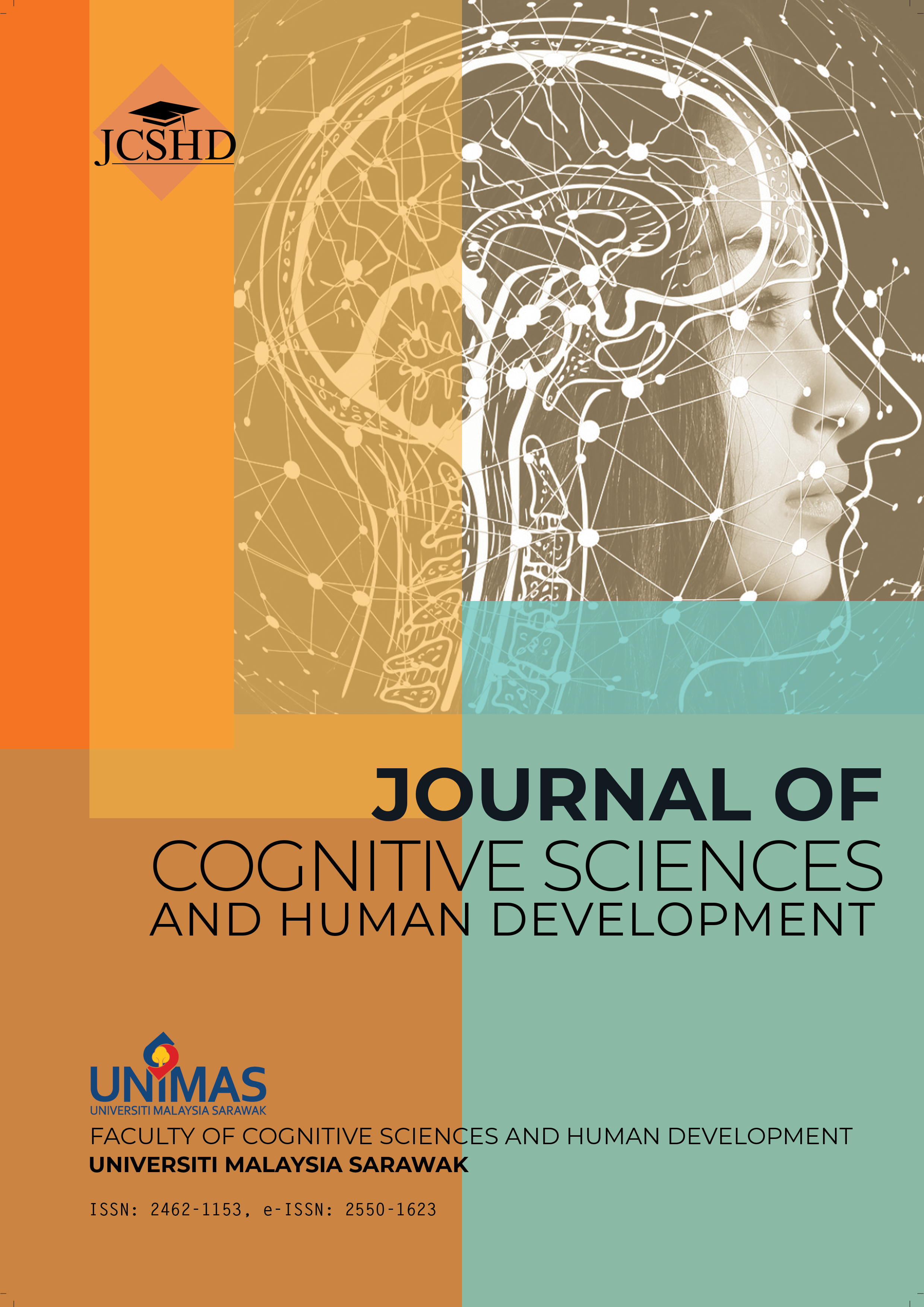 How to Cite
Thompson, D., & Muda, A. L. (2021). Exploring Managers' Perspective on Factors Affecting Generation Y Retention. Journal of Cognitive Sciences and Human Development, 7(2), 159-174. https://doi.org/10.33736/jcshd.3798.2021
Copyright Transfer Statement for Journal
1) In signing this statement, the author(s) grant UNIMAS Publisher an exclusive license to publish their original research papers. The author(s) also grant UNIMAS Publisher permission to reproduce, recreate, translate, extract or summarize, and to distribute and display in any forms, formats, and media. The author(s) can reuse their papers in their future printed work without first requiring permission from UNIMAS Publisher, provided that the author(s) acknowledge and reference publication in the Journal.

2) For open access articles, the author(s) agree that their articles published under UNIMAS Publisher are distributed under the terms of the CC-BY-NC-SA (Creative Commons Attribution-Non Commercial-Share Alike 4.0 International License) which permits unrestricted use, distribution, and reproduction in any medium, for non-commercial purposes, provided the original work of the author(s) is properly cited.

3) For subscription articles, the author(s) agree that UNIMAS Publisher holds copyright, or an exclusive license to publish. Readers or users may view, download, print, and copy the content, for academic purposes, subject to the following conditions of use: (a) any reuse of materials is subject to permission from UNIMAS Publisher; (b) archived materials may only be used for academic research; (c) archived materials may not be used for commercial purposes, which include but not limited to monetary compensation by means of sale, resale, license, transfer of copyright, loan, etc.; and (d) archived materials may not be re-published in any part, either in print or online.

4) The author(s) is/are responsible to ensure his or her or their submitted work is original and does not infringe any existing copyright, trademark, patent, statutory right, or propriety right of others. Corresponding author(s) has (have) obtained permission from all co-authors prior to submission to the journal. Upon submission of the manuscript, the author(s) agree that no similar work has been or will be submitted or published elsewhere in any language. If submitted manuscript includes materials from others, the authors have obtained the permission from the copyright owners.

5) In signing this statement, the author(s) declare(s) that the researches in which they have conducted are in compliance with the current laws of the respective country and UNIMAS Journal Publication Ethics Policy. Any experimentation or research involving human or the use of animal samples must obtain approval from Human or Animal Ethics Committee in their respective institutions. The author(s) agree and understand that UNIMAS Publisher is not responsible for any compensational claims or failure caused by the author(s) in fulfilling the above-mentioned requirements. The author(s) must accept the responsibility for releasing their materials upon request by Chief Editor or UNIMAS Publisher.

6) The author(s) should have participated sufficiently in the work and ensured the appropriateness of the content of the article. The author(s) should also agree that he or she has no commercial attachments (e.g. patent or license arrangement, equity interest, consultancies, etc.) that might pose any conflict of interest with the submitted manuscript. The author(s) also agree to make any relevant materials and data available upon request by the editor or UNIMAS Publisher.