Psychological Impact on Parents of University Students During COVID-19 Movement Control Order (MCO)
Juslina Omar

Universiti Malaysia Sarawak

Azreen Friddy

Universiti Malaysia Sarawak

Anne Tasha Serun

Universiti Malaysia Sarawak

Hemma B. Rayandran

Universiti Malaysia Sarawak

Julie Reeni Remash

Universiti Malaysia Sarawak

Julia Natasya Mohd Zuhurin

Universiti Malaysia Sarawak

Muhammad Nadzirul Syafiq Adruce

Universiti Malaysia Sarawak

Yegharaj Jayaveeran

Universiti Malaysia Sarawak
Abstract
The Malaysian Government has announced the Movement Control Order (MCO) starting 18th March 2020 due to the COVID-19 pandemic worldwide. This study attempts to assess the level of psychological distress among parents of university students stranded on campus and out campus during MCO; and to identify the stressors causing psychological distress among parents. It is a cross sectional study using an online self-administered questionnaire done at a public university in Kuching, Sarawak, Malaysia. Psychological distress was determined by using Kessler's Psychological Distress Scale (K10). The study has shown significant associations between parents' psychological distress with three stressors which consist of worrying about their child's food supply, child's future, and child's mental health.
References
Bao, Y., Sun, Y., Meng, S., Shi, J., Lu, L., 2020. 2019-nCoV epidemic: address mental health care to empower society. Lancet (London, England). 395(10224), e37-e38. https://doi.org/10.1016/S0140-6736(20)30309-3
https://doi.org/10.1016/S0140-6736(20)30309-3
Brooks, S. K., Webster, R. K., Smith, L. E., Woodland, L., Wessely, S., Greenberg, N., & Rubin, G. J. (2020). The Psychological Impact of Quarantine and How to Reduce It: Rapid Review of the Evidence. SSRN Electronic Journal. https://doi.org/10.1016/S0140-6736(20)30460-8 Centers for Disease Control and Prevention. (2020) Coronavirus Disease 2019 (COVID-19) [online]. Retrieved from: https://www.cdc.gov/coronavirus/2019-ncov/symptomstesting/symptoms.html
https://doi.org/10.2139/ssrn.3532534
Chen, N., Zhou, M., Dong, X., Qu, J., Gong, F., Han, Y., Qiu, Y., et al. (2020). Epidemiological and clinical characteristics of 99 cases of 2019 novel coronavirus pneumonia in Wuhan, China: a descriptive study. The Lancet, 395(1), pp. 507-513. https://doi.org/10.1016/S0140-(20)30211-7
https://doi.org/10.1016/S0140-6736(20)30211-7
Cyrus, S. H., Cornelia Y. I., & Roger C. M. (2020). Mental health strategies to combat the psychological impact of COVID-19 beyond paranoia and panic. Annals, Academy of Medicine, Singapore. Retrieved from: http://www.anmm.org.mx/descargas/Ann-Acad-Med-Singapore.pdf
Humphrey, R. (2006). Pulling structured inequality into higher education: The impact of part time working on English university students. Higher Education Quarterly, 60(3), 270-86.
https://doi.org/10.1111/j.1468-2273.2006.00317.x
John, B. (2020, March 16). PM: Malaysia under movement control order from Wed until March, all shops closed except for essential services. Malay Mail. Retrieved from https://www.malaymail.com/news/malaysia/2020/03/16/pm-malaysia-in-lockdown-from-weduntil-march-31-all-shops-closed-except-for/1847204
Kernan, W. D. (2019). Health-related impediments to learning among dental and oral surgery students. Journal of prevention & intervention in the community, 47(1), 32-44.
https://doi.org/10.1080/10852352.2018.1547307
Kesten, J. M., Anderson, E. C., Lane, I., Hay, A. D., & Cabral, C. (2017). Parent views on the content and potential impact of respiratory tract infection surveillance information: semistructured interviews to inform future research. BMJ paediatrics open, 1(1). Retrieved from https://www.ncbi.nlm.nih.gov/pmc/articles/PMC5843006/pdf/bmjpo-2017-000036.pdf
https://doi.org/10.1136/bmjpo-2017-000036
Koller, D. F., Nicholas, D. B., Goldie, R. S., Gearing, R., & Selkirk, E. K. (2006). When FamilyCentered Care Is Challenged by Infectious Disease: Paediatric Health Care Delivery During the SARS Outbreaks. Qualitative Health Research, 16(1), 47-60.
https://doi.org/10.1177/1049732305284010
Kessler, R. C., Barker, P. R., Colpe, L. J., Epstein, J. F., Gfroerer, J. C., Hiripi, E., Zaslavsky, A.M. (2003). Screening for Serious Mental Illness in the General Population. Arch Gen Psychiatry, (2), 184-9. doi:10.1001/archpsyc.60.2.184. Available at: https://jamanetwork.com/journals/jamapsychiatry/fullarticle/207204
https://doi.org/10.1001/archpsyc.60.2.184
Li-Fei, W. & Heppner, P. P. (2002). Assessing the impact of parental expectations and psychological distress on Taiwanese college students. The Counseling Psychologist, 30(4), 582- Available at: https://journals.sagepub.com/doi/pdf/10.1177/00100002030004006n Ministry of Health Malaysia. (2020). Mental health and psychosocial support in COVID-19. Retrieved from: http://www.moh.gov.my/moh/resources/Penerbitan/Garis%20Panduan/COVID19/Annex _33_Mental_health_and_Psychosocial_support_23032020.pdf
https://doi.org/10.1177/00100002030004006
Muhd Faris Abdullah (2020, April 14). Staying on campus during MCO a strain on students. Retrieved from: https://www.nst.com.my/opinion/columnists/2020/04/584261/staying-campusduring-mco-strain-students
Müller (2014). Infectious diseases and mental health. Key Issues in Mental Health. Basel: S. KARGER AG, 2, 99-113. Available at: https://library.oapen.org/bitstream/handle/20.500.12657/24380/1005734.pdf?sequence=1#page=
https://doi.org/10.1159/000365542
Nor Hayati Endan. (2020, April17). PKP:Kebajikan pelajar jadi keutamaan. BHOnline. Retrieved from: https://www.bharian.com.my/authors/oleh-nor-hayati-endan?page=1
Tiong, X. T., Nur Sara Shahira, A., Mohamad Adam, B., Fatin Ellisya, S., Selvasingam, R., Chong, K. J., Fong, A. Y. Y. (2018). Validation of the Kessler's Psychological Distress Scale(K10&K6) in a Malaysian Population, ASEAN Journal of Psychiatry, 19 (1), 2231-7805.
Wang, C., Pan, R., Wan, X., Tan, Y., Xu, L., Ho, C. S., & Ho, R. C. (2020). Immediate Psychological Responses and Associated Factors during the Initial Stage of the 2019 Coronavirus Disease (COVID-19) Epidemic among the General Population in China. International Journal of Environmental Research and Public Health, 17(5), 1729.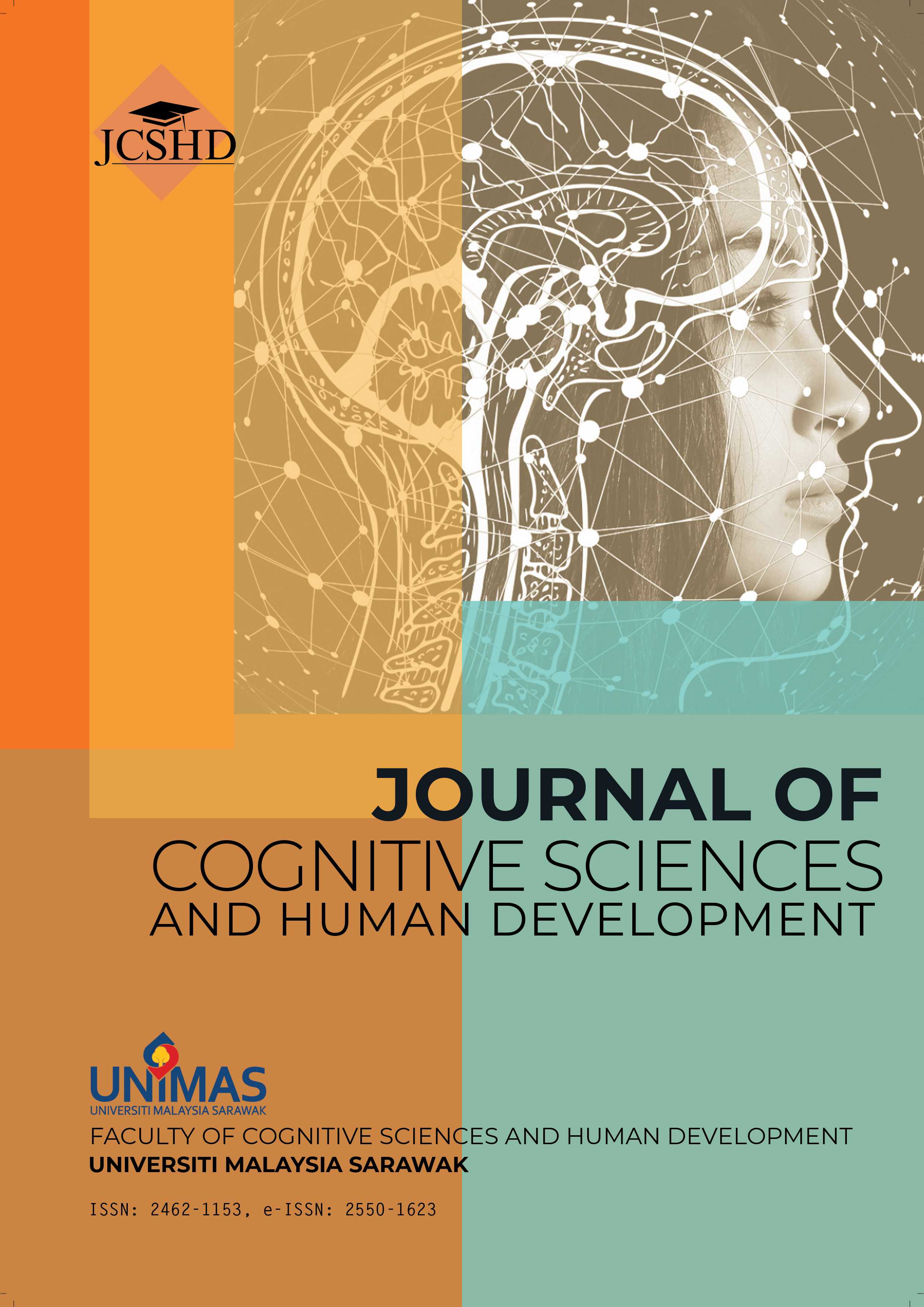 How to Cite
Omar, J., Friddy, A., Serun, A. T., B. Rayandran, H., Remash, J. R., Mohd Zuhurin, J. N., Adruce , M. N. S., & Jayaveeran, Y. (2021). Psychological Impact on Parents of University Students During COVID-19 Movement Control Order (MCO). Journal of Cognitive Sciences and Human Development, 7(1), 145-156. https://doi.org/10.33736/jcshd.2895.2021
Copyright Transfer Statement for Journal
1) In signing this statement, the author(s) grant UNIMAS Publisher an exclusive license to publish their original research papers. The author(s) also grant UNIMAS Publisher permission to reproduce, recreate, translate, extract or summarize, and to distribute and display in any forms, formats, and media. The author(s) can reuse their papers in their future printed work without first requiring permission from UNIMAS Publisher, provided that the author(s) acknowledge and reference publication in the Journal.

2) For open access articles, the author(s) agree that their articles published under UNIMAS Publisher are distributed under the terms of the CC-BY-NC-SA (Creative Commons Attribution-Non Commercial-Share Alike 4.0 International License) which permits unrestricted use, distribution, and reproduction in any medium, for non-commercial purposes, provided the original work of the author(s) is properly cited.

3) The author(s) is/are responsible to ensure his or her or their submitted work is original and does not infringe any existing copyright, trademark, patent, statutory right, or propriety right of others. Corresponding author(s) has (have) obtained permission from all co-authors prior to submission to the journal. Upon submission of the manuscript, the author(s) agree that no similar work has been or will be submitted or published elsewhere in any language. If submitted manuscript includes materials from others, the authors have obtained the permission from the copyright owners.

4) In signing this statement, the author(s) declare(s) that the researches in which they have conducted are in compliance with the current laws of the respective country and UNIMAS Journal Publication Ethics Policy. Any experimentation or research involving human or the use of animal samples must obtain approval from Human or Animal Ethics Committee in their respective institutions. The author(s) agree and understand that UNIMAS Publisher is not responsible for any compensational claims or failure caused by the author(s) in fulfilling the above-mentioned requirements. The author(s) must accept the responsibility for releasing their materials upon request by Chief Editor or UNIMAS Publisher.

5) The author(s) should have participated sufficiently in the work and ensured the appropriateness of the content of the article. The author(s) should also agree that he or she has no commercial attachments (e.g. patent or license arrangement, equity interest, consultancies, etc.) that might pose any conflict of interest with the submitted manuscript. The author(s) also agree to make any relevant materials and data available upon request by the editor or UNIMAS Publisher.