Religious Identity Representation of Arab Diaspora in the Linguistic Landscape of Shop Signs in Sydney, Australia
Kamal Yusuf

UIN Sunan Ampel Surabaya

Akhmad Najibul Khairi Syaie

Abd A'la

Omar Ibrahim Salameh Alomoush
Keywords:
Arabic; Arab diaspora; commercial signage; religious identity; linguistic landscape
Abstract
One of the fascinating issues concerning the Arab diaspora is the way they represent their identity in the new environment in which they live, interacting with the indigenous and other communities. This identity representation can be expressed through language and religion. This study aimed at describing the language use and religious identity representation of Arab diaspora depicted from shop signs in Sydney. The data consisted of pictures that were collected from commercial shops along the Haldon Street of Sydney, Australia. The findings demonstrated that language choices are varied in the linguistic landscape of shop signs. English is the predominant language used, while Arabic is used in the domain related to religion. This study also found the use of Islamic expressions in commercial signage is not only informative but also a symbolic function. The use of Islamic expressions is intended to assert their Islamic identity representation through the linguistic landscape of shop signs.
References
Abdel-Fattah, R. (2016). 'Lebanese Muslim': A Bourdieuian "Capital" offense in an Australian coastal town. Journal of Intercultural Studies, 37(4), 323-338. https://doi.org/10.1080/07256868.2016.1190696
Akindele, D. O. (2011). Linguistic landscapes as public communication: A study of public signage in Gaborone Botswana. International Journal of Linguistics, 3(1), 1-11. http://dx.doi.org/10.5296/ijl.v3i1.1157
Al-Teinaz, Y. R. (2020). What is halal food?. In Y. R. Al-Teinaz, S. Spear, & I. H. A. Abd El‐Rahim (Eds.), The halal food handbook (pp. 7-26). John Wiley & Sons. https://doi.org/10.1002/9781118823026
Al Hyari, D. A., & Hamdan, J. M. (2019). A linguistic study of shop signs in Salt, Jordan. Journal of Language Teaching and Research, 10(5), 937-953. https://doi.org/10.17507/jltr.1005.05
Al Qurtuby, S. (2017). Arabs and "Indo-Arabs" in Indonesia: Historical dynamics, social relations and contemporary changes. International Journal of Asia Pacific Studies, 13(2), 45-72. https://doi.org/10.21315/ijaps2017.13.2.3
Alomoush, O. I. S. (2019). English in the linguistic landscape of a northern Jordanian city. English Today, 35(3), 35-41. https://doi.org/10.1017/S0266078418000391
Alomoush, O. I. S. (2021). Is English on mobile linguistic landscape resources no longer viewed as a linguistic threat to Arabic in Jordan? English Today, 37(1), 50-57. https://doi.org/10.1017/S0266078419000282
Alomoush, O. I. S., & Al-Naimat, G. K. (2020). English in the linguistic landscape of Jordanian shopping malls: Sociolinguistic variation and translanguaging. The Asian Journal of Applied Linguistics, 7(1), 101-115. Retrieved from https://caes.hku.hk/ajal/index.php/ajal/article/view/706
Armanios, F., & Ergene, B. (2018). Halal food: A history. Oxford: Oxford University Press.
Australian Bureau of Statistics. (2017). Census reveals: We're a fast changing nation. https://www.abs.gov.au/ausstats/abs@.nsf/mediareleasesbyReleaseDate/BA4418859C270D68CA2581BF001E65B3?OpenDocument#
Backhaus, P. (2005). Signs of multilingualism in Tokyo: A linguistic landscape approach. University of Duisburg- Essen.
Bennett, B. P. (2017). Sacred languages of the world. New York: John Wiley & Sons https://doi.org/10.1002/9781119234661
Buckingham, L. (2015). Commercial signage and the linguistic landscape of Oman. World Englishes, 34(3), 411–435. https://doi.org/10.1111/weng.12146
Cainkar, L. (2013). Global Arab world migrations and diasporas. Arab Studies, 21(1), 126-165.
Collins, P. (2012). Australian English: Its evolution and current state. International Journal of Language, Translation and Intercultural Communication, 1, 75-86. https://doi.org/10.12681/ijltic.11
Damanakis, M. (2018). Identity, language, and language policies in the diaspora: Historical-comparative approach. In P. P. Trifonas, & T. Aravossitas (Eds.), Handbook of research and practice in heritage language education (pp. 671-690). Springer. https://doi.org/10.1007/978-3-319-44694-3_9
Dimova, S. (2007). English shop signs in Macedonia. English Today, 23(3-4), 18-24. https://doi.org/10.1017/S0266078407003057
Edelman, L. (2010). Linguistic landscapes in the Netherlands: A study of multilingualism in Amsterdam and Friesland. LOT Utrecht. https://www.lotpublications.nl/Documents/261_fulltext.pdf
Geddes, A. (2014). The European Union's international-migration relations towards Middle Eastern and North African countries. In M. Bommes, H. Fassmann, & W. Sievers. (Eds.), Migration from the Middle East and North Africa to Europe: Past development, current status, and future potentials (pp. 139-158). University Press. https://library.oapen.org/bitstream/handle/20.500.12657/33374/ 496763.pdf?sequence=1
Guihang, G., & Bingjie, L. (2017). Linguistic landscape of China: A case study of the language use of shop signs in Wuhan. Studies in Literature and Language, 15(1), 1-9. http://dx.doi.org/10.3968/9816
Hussein, R. F., Nofal, M. Y., & Mansour, A. J. (2015). The language of shop signs in Amman: A sociolinguistic study. International Journal of Educational Research and Reviews, 3(3), 155-164.
Izadi, D. (2016). Spatial engagement in Persian ethnic shops in Sydney. Multimodal Communication, 4(1), 61-78. https://doi.org/10.1515/mc-2015-0005
Landry, R., & Bourhis, R. Y. (1997). Linguistic landscape and ethnolinguistic vitality. Journal of Language and Social Psychology, 16(1), 23-49. https://doi.org/10.1177/0261927X970161002
Lee, J. S. (2019). Multilingual advertising in the linguistic landscape of Seoul. World Englishes, 38(3), 500-518. https://doi.org/https://doi.org/10.1111/weng. 12427
Liebert, S., Siddiqui, M. H., & Goerzig, C. (2020). Integration of Muslim immigrants in Europe and North America: A transatlantic comparison. Journal of Muslim Minority Affairs, 40(2), 196-216. https://doi.org/10.1080/13602004. 2020.1777663
Lo Bianco, J. (2016). Language policy and education in Australia. In S. May, &, N. H. Hornberger (Eds.). Encyclopedia of Language and Education (pp. 343-353). Boston: Springer. https://doi.org/10.1007/978-0-387-30424-3_25
Manan, S. A., David, M. K., Dumanig, F. P., & Channa, L. A. (2017). The glocalization of English in the Pakistan linguistic landscape. World Englishes, 36(4), 645-665. https://doi.org/10.1111/weng.12213
Mills, J. (2005). Connecting communities: Identity, language and diaspora. International Journal of Bilingual Education and Bilingualism, 8(4), 253-274. https://doi.org/10.1080/13670050508668610
Nikolaou, A. (2017). Mapping the linguistic landscape of Athens: The case of shop signs. International Journal of Multilingualism, 14(2), 160-182. https://doi.org/10.1080/14790718.2016.1159209
Ong, K. K. W., Ghesquière, J. F., & Serwe, S. K. (2013). Frenglish shop signs in Singapore. English Today, 29(3), 19-25. https://doi.org/10.1017/S026607 8413000278
Prapobratanakul, C. (2016). Inside the shop names: Hybridity, language awareness and globalization in the linguistic landscape of a local commercial neighborhood in Bangkok. MANUSYA, 19(3), 26-37. https://doi.org/10.1163/26659077-01903003
Salameh, M. T. B., & Alkatatsheh, M. H. (2019). Migration from the Arab spring countries to Europe: Causes and consequences. Dirasat, Human and Social Sciences, 46(4), 106-121.
Selvi, A. F. (2007). A multifactorial sociolinguistic analysis of business naming practices in Turkey. Ankara: Middle East Technical University.
Shohamy, E., & Waksman, E. (2009). Linguistic landscape as an ecological arena: Modalities, meanings, negotiations, education. In E. Shohamy & D. Gorter (Eds.), Linguistic landscape: Expanding the scenery (pp. 313-331). London: Routledge.
Yusuf, K. (2017). The relationship between language attitudes and self-concept and Arabic writing and speaking ability among university students in Indonesia.[Doctoral thesis, Universität Leipzig].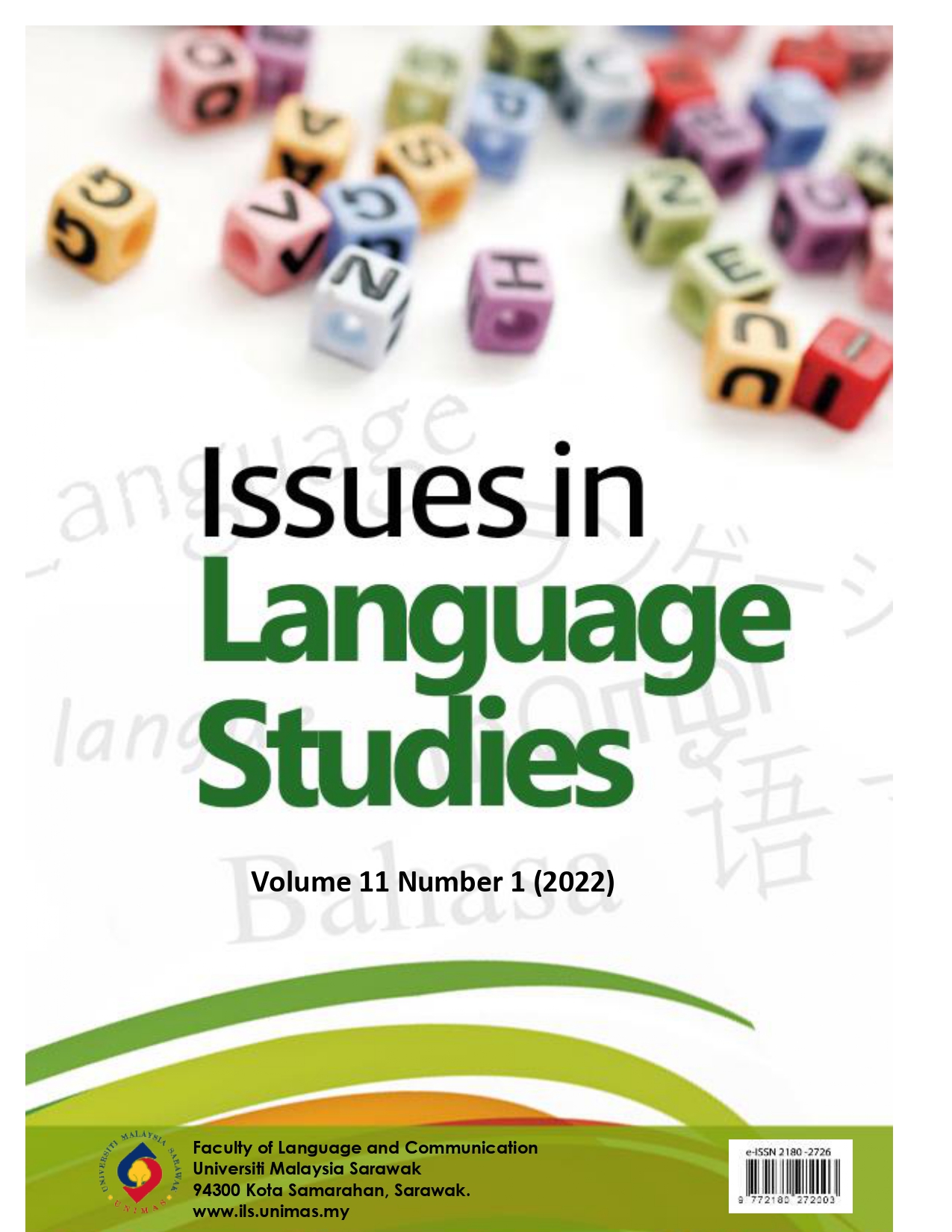 How to Cite
Yusuf, K., Syaie, A. N. K., A'la, A., & Alomoush, O. I. S. (2022). Religious Identity Representation of Arab Diaspora in the Linguistic Landscape of Shop Signs in Sydney, Australia. Issues in Language Studies, 11(1), 91-108. https://doi.org/10.33736/ils.4338.2022
Copyright (c) 2022 UNIMAS Publisher
This work is licensed under a Creative Commons Attribution-NonCommercial-ShareAlike 4.0 International License.
Copyright Transfer Statement for Journal
1) In signing this statement, the author(s) grant UNIMAS Publisher an exclusive license to publish their original research papers. The author(s) also grant UNIMAS Publisher permission to reproduce, recreate, translate, extract or summarize, and to distribute and display in any forms, formats, and media. The author(s) can reuse their papers in their future printed work without first requiring permission from UNIMAS Publisher, provided that the author(s) acknowledge and reference publication in the Journal.

2) For open access articles, the author(s) agree that their articles published under UNIMAS Publisher are distributed under the terms of the CC-BY-NC-SA (Creative Commons Attribution-Non Commercial-Share Alike 4.0 International License) which permits unrestricted use, distribution, and reproduction in any medium, for non-commercial purposes, provided the original work of the author(s) is properly cited.

3) For subscription articles, the author(s) agree that UNIMAS Publisher holds copyright, or an exclusive license to publish. Readers or users may view, download, print, and copy the content, for academic purposes, subject to the following conditions of use: (a) any reuse of materials is subject to permission from UNIMAS Publisher; (b) archived materials may only be used for academic research; (c) archived materials may not be used for commercial purposes, which include but not limited to monetary compensation by means of sale, resale, license, transfer of copyright, loan, etc.; and (d) archived materials may not be re-published in any part, either in print or online.

4) The author(s) is/are responsible to ensure his or her or their submitted work is original and does not infringe any existing copyright, trademark, patent, statutory right, or propriety right of others. Corresponding author(s) has (have) obtained permission from all co-authors prior to submission to the journal. Upon submission of the manuscript, the author(s) agree that no similar work has been or will be submitted or published elsewhere in any language. If submitted manuscript includes materials from others, the authors have obtained the permission from the copyright owners.

5) In signing this statement, the author(s) declare(s) that the researches in which they have conducted are in compliance with the current laws of the respective country and UNIMAS Journal Publication Ethics Policy. Any experimentation or research involving human or the use of animal samples must obtain approval from Human or Animal Ethics Committee in their respective institutions. The author(s) agree and understand that UNIMAS Publisher is not responsible for any compensational claims or failure caused by the author(s) in fulfilling the above-mentioned requirements. The author(s) must accept the responsibility for releasing their materials upon request by Chief Editor or UNIMAS Publisher.

6) The author(s) should have participated sufficiently in the work and ensured the appropriateness of the content of the article. The author(s) should also agree that he or she has no commercial attachments (e.g. patent or license arrangement, equity interest, consultancies, etc.) that might pose any conflict of interest with the submitted manuscript. The author(s) also agree to make any relevant materials and data available upon request by the editor or UNIMAS Publisher.