FIELD PILOT STUDY ON THE ASSESSMENT OF SELECTED HYDROCARBON REMEDIATION TECHNIQUES
E. S. Okonofua

Department of Civil Engineering, University of Benin, PMB 1154, Benin City, Nigeria

J. O. Babatola

Department of Civil Engineering, Federal University of Technology, Akure, PMB 704, Ondo State, Nigeria

O. O. Ojuri

Department of Civil Engineering, Federal University of Technology, Akure, PMB 704, Ondo State, Nigeria
Keywords:
Contamination, Remediation, Hydrocarbon, Crude oil and Treatment
Abstract
The study discussed the remediation potentials of phytoremediation, land farming treatment and chemico-biological stabilization treatments in degrading Total Petroleum Hydrocarbon (TPH) and Polycyclic Aromatic Hydrocarbon (PAH) in soils polluted with crude oil in varying concentrations. The field pilot study was carried out in Benin city, Nigeria by preparing nine (9) cells with sub-cells attached which serve as control; each cell measures 1.53 m2. Three cells contained 100 kg of artificially contaminated soils at low contamination concentration (3000 mg kg-1), the next three cells contained 100 kg of contaminated soil samples but with medium concentration (5000 mg kg-1), while the last three cells contained 100 kg of spike samples in high concentration (7000 mg kg-1). The sub cells contained 10 kg of soil and left untreated. Each role containing three cells with low, medium and high concentration was treated separately using the three treatment methods. Soil samples to organic amendment ratio for the treatments was 2:1. The results showed over 90% reduction in the initial concentration of TPH and PAH across the different contamination levels with except in the control sub cells were only 30% reduction was recorded. The treated soil was found useful for agricultural purpose. One-way analysis of variance reveals a significant difference at p≤0.05 in the results obtained in application of the three methods. This implies that the methods effectively degraded the TPH and PAH concentrations. The three different methods of treatments effectively degraded TPH and PAH contaminants with land farming treatment being the best of the three.
References
Ezenne, G.I., Nwoke, O.A., Ezikpe, D.E., Ugwuisshiwu, B.O., 2014. Use of poultry droppings for remediation of crude oil-polluted soils: Effects of application rate on total and poly-aromatic hydrocarbon concentrations. International Biodeterioration & Biodegradation 92, 57-65.
https://doi.org/10.1016/j.ibiod.2014.01.025
Okpokwasili, G.C., Odokuma, L.O., 2014. Tolerance of Nitrobacter to toxicity of some Nigerian crude oils. Bull. Environ. Contam. Toxicol. 52, 388-395.
https://doi.org/10.1007/BF00197826
Abu, G.O., Chikere, B.O., 2016. Cell surface properties of hydrocarbon-utilizing bacterial isolates from Port Harcourt marine environment, Nigeria. Journal of Microbiol. 20, 809-816.
Okpokwasili, G.S.C., 2006. Microbes and the Environmental Challenge. Inaugural Lecture Series No. 53. University of Port Harcourt Press, Port Harcourt, 31-56.
Kinako, P.D.S., Zuofa, K. 2001. Ecology and management of terrestrial oil pollution in Nigeria. Bureaucrat.17, 65- 71.
Larsson, U., Linden, O., Hagstrom, A., Al-Alawi, Z. S., 2015. Pelagic bacterial marine and phytoplankton production in a subtropical marine environment exposed to chronic oil contamination. Oil Chem Pollut 7, 29-42.
Adekambi, E.O., 1989. Petroleum hydrocarbon pollution in Nigerian waters and sediments around Lagos and Niger Delta areas of Nigeria. PhD thesis, University of Ibadan, Ibadan, Nigeria.
Nigeria National Petroleum Corporation (NNPC), 2017. Annual Report booklet, 23, 17-33
Quatrini, P., Scaglione, G., De Pasquale, C., Reila, S., Puglia, A.M., 2010. Isolation of Gram-positive n-alkane degraders from a hydrocarbon contaminated Mediterranean shoreline. Journal of Applied Microbiol. 104, 251-259.
Margesin, R., Labbe, D., Schinner, F., Greer, C.W., Whyte, L.G., 2013. Characterization of hydrocarbon degrading microbial populations in contaminated and pristine Alpine soils. Appl. Environ. Microbiol. 69, 3085-3092.
https://doi.org/10.1128/AEM.69.6.3085-3092.2003
Kaplan, C.W., Kitts, C.L., 2014. Bacterial succession in a petroleum land treatment unit. Appl. Environ. Microbiol. 70, 1777-1786.
https://doi.org/10.1128/AEM.70.3.1777-1786.2004
Bouchez-Naitali, M., Rakatozafy, H., Marchals, R., Leveau, J.V., Van Beilendecasteele, J.P., 2009. Diversity of bacterial strains degrading hexadecane in relation to the mode of substrate uptake. J. Appl. Microbiol. 86, 421-428.
https://doi.org/10.1046/j.1365-2672.1999.00678.x
Ayotamuno, M.J., Kogbara, R.B., Ogaji, S.O.T., Pobert, S.D., 2011. Bioremediation of a crude oil polluted agricultural soil polluted at Port Harcourt, Nigeria. Appl. Energy 83, 1249-1257.
https://doi.org/10.1016/j.apenergy.2006.01.003
Stroud, J.L., Paton, G.I., Semple, K.T., 2013. Microbe-aliphatic hydrocarbon interactions in soil; implications for biodegradation and bioremediation. J. Appl. Microbiol. 102, 1239-1253.
https://doi.org/10.1111/j.1365-2672.2007.03401.x
Lin, Q., Mendelssohn, I.A., 2014. The combined effects of phytoremediation and biostimulation in enhancing habitat restoration and oil degradation of petroleum contaminated wetlands. J. Ecol. Eng. 10, 263-274.
https://doi.org/10.1016/S0925-8574(98)00015-9
Balba, M.T., Al-Awadhi, R., Al-Daher, R., 2008. Bioremediation of oil contaminated soil: microbiological methods for feasibility and field evaluation. J. Microbiol. Methods 32, 155-164.
https://doi.org/10.1016/S0167-7012(98)00020-7
Moskovits, G. and Hollohan, B. T. (1995): Introduction to Microbiology Laboratory for Biology 3050.Memorial University of Newfoundland
Canter, L. W. and Knox, R.C. (1993): Ground Water Pollution Control. Lewis Publishers. Chelsea, MI. U.S
Jidere, C.M., Akamigbo, F.O.R., Ugwuanyi, J.O., 2012. Phytoremediation potentials of cowpea (Vigina unguiculata) and maize (Zea mays) for hydrocarbon degradation in organic and inorganic manure-amended tropical Typic Paleustults. Int. J. Phytoremediation 14, 362-373.
https://doi.org/10.1080/15226514.2011.620652
Amadi, A., Dickson, A.A., Maate, G.O. 2003. Remediation of Oil Polluted soils: Effects of Organic and Inorganic Nutrient Supplements on the Performance of Maize (Zea mays L). Water, Air and Soil Pollution 66:59-76.
https://doi.org/10.1007/BF00477060
Hughes, N.C., Pfau, W., Hewer, A., Jacob, J., Grimmer, G., Phillips, D.H. (1993): Covalent Binding of Polycyclic Aromatic Hydrocarbon Components of Coal Tar to DNA in Mouse Skin. Carcinogenesis 14:135-144
https://doi.org/10.1093/carcin/14.1.135
Atlas, R. M. and Bartha, R. (2006): Degradation and Mineralization of Petroleum by two Bacteria Isolated from Coastal Water. Biotechnol. Bioeng. 14, 297-308.
https://doi.org/10.1002/bit.260140303
Dixit, R., Wasiullah, Malaviya, D., Pandiyan, K., Sinhg, U. B., Sahu, A., Shukla, R., Sinhg, B. P., Rai, J. P., Sharma, P. K., Lade, H. and Paul, D (2015): Bioremediation of Heavy Metals from Soil and Aquatic Environment: An Overview of Principles and Criteria of Fundamental Processes, Sustainability, 7, 2189-2212.
https://doi.org/10.3390/su7022189
Adewole, M.G. and Moyinoluwa, D.A., (2012. Effect of Crude oil on the Emergence and Growth of Cowpea in two Contrasting Soil Types from Abeokuta South Western Nigeria. Asian J. Appl. Sci. 5 (4): 232-239.
https://doi.org/10.3923/ajaps.2012.232.239
Lee, D. Y. and Chen, Z. S. (2000): Plants for Cadmium Polluted Soils in Northern Taiwan. In: Biogeochemistry of Trace Elements, Adriano, D. C., Chen, Z.S., and Yang, S.S. (Eds). Special Issue of Jour. Environ. Geochem. And Health, 16, 161-170.
Sherman, D., and Stroo, H. (2011): Biological Treatment of PAHs in Soi1 Residues in Simulated Land Treatment Systems. Specialty Conference on Environmental Engineering, ASCE. Jdy. 726-733.
Merkl, N. Schultze-kroft, R. and Infante, C. (2004): Phytoremediation of Petroleum Contaminated soil in the Tropics; Pre-selection of plants Species from Venezuela, Journal of Applied Botany Quality 78, 185-192.
Nielsen, N.W., Winding A., Binnerup, S., Hansen, B.M and Kroer, N. (2002): Microorganisms as Indicator of Soil Health. National Environmental Research Institute (NERI) Technical Report No. 388.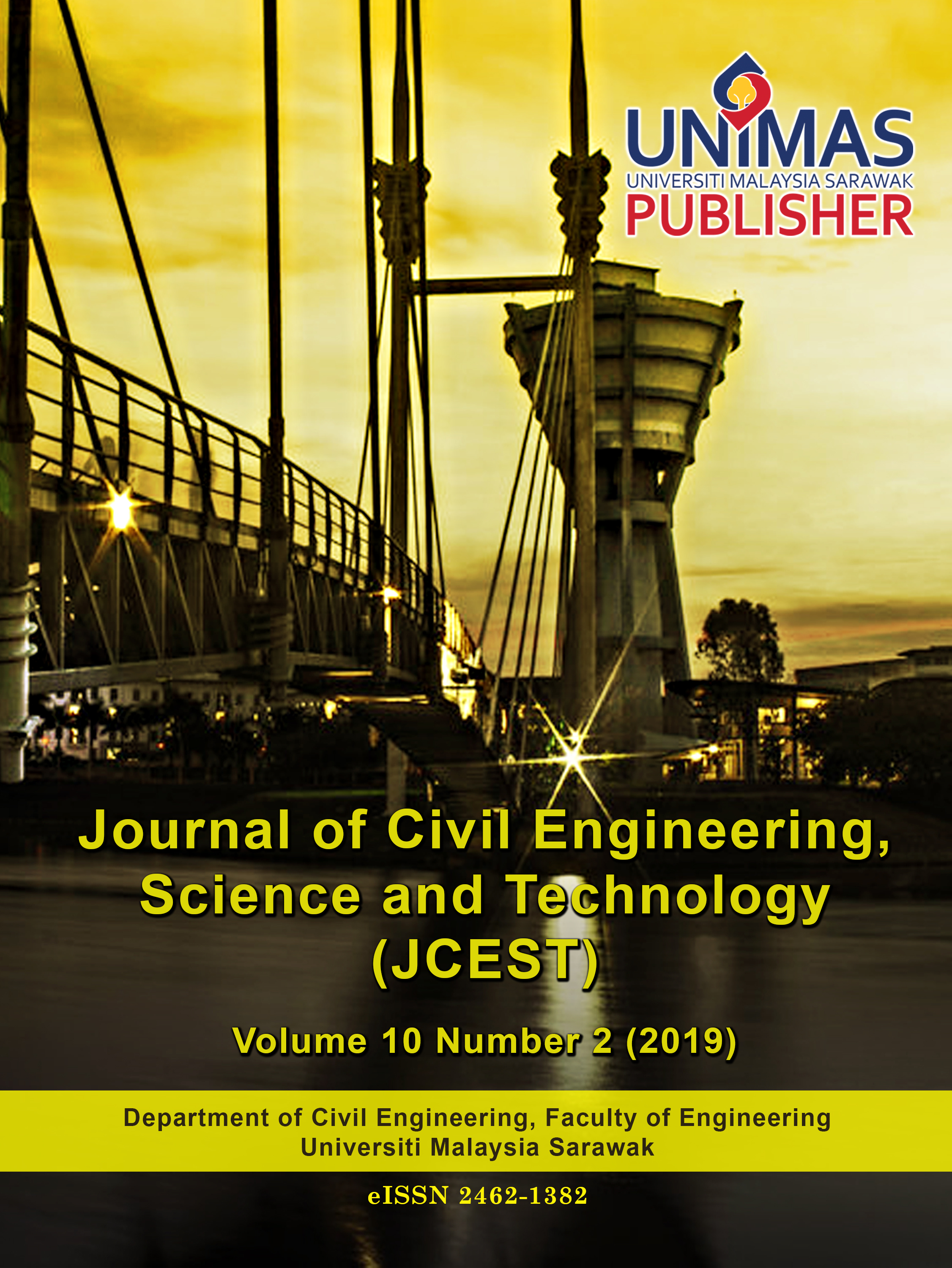 How to Cite
Okonofua, E. S., Babatola, J. O., & Ojuri, O. (2019). FIELD PILOT STUDY ON THE ASSESSMENT OF SELECTED HYDROCARBON REMEDIATION TECHNIQUES. Journal of Civil Engineering, Science and Technology, 10(2), 132-145. https://doi.org/10.33736/jcest.1544.2019
Copyright (c) 2019 Journal of Civil Engineering, Science and Technology
This work is licensed under a Creative Commons Attribution-NonCommercial-ShareAlike 4.0 International License.
Upon acceptance of an article, the corresponding author on behalf of all authors will be asked to complete and upload the Copyright Transfer Form (refer to Copyright Issues for more information on this) alongside the electronic proof file.
Copyright Transfer Statement for Journal
1) In signing this statement, the author(s) grant UNIMAS Publisher an exclusive license to publish their original research papers. The author(s) also grant UNIMAS Publisher permission to reproduce, recreate, translate, extract or summarize, and to distribute and display in any forms, formats, and media. The author(s) can reuse their papers in their future printed work without first requiring permission from UNIMAS Publisher, provided that the author(s) acknowledge and refer the publication in the Journal.
2) For open-access articles, the author(s) agree that their articles published under UNIMAS Publisher are distributed under the terms of the Creative Commons Attribution-NonCommercial-ShareAlike 4.0 International License (CC BY-NC-SA 4.0) which permits unrestricted use, distribution, and reproduction in any medium, for non-commercial purposes, provided the original work of the author(s) is properly cited.
3) For subscription articles, the author(s) agree that UNIMAS Publisher holds the copyright or an exclusive license to publish. Readers or users may view, download, print, and copy the content, for academic purposes, subject to the following conditions of use: (a) any reuse of materials is subjected to permission from UNIMAS Publisher; (b) archived materials may only be used for academic research; (c) archived materials may not be used for commercial purposes, which include but not limited to monetary compensation by means of sale, resale, license, transfer of copyright, loan, etc.; and (d) archived materials may not be re-published in any part, either in print or online.
4) The author(s) are responsible to ensure their submitted work is original and does not infringe any existing copyright, trademark, patent, statutory right, or propriety right of others. The corresponding author has obtained permission from all co-authors prior to submission to the journal. Upon submission of the manuscript, the author(s) agree that no similar work has been or will be submitted or published elsewhere in any language. If the submitted manuscript includes materials from others, the authors have obtained permission from the copyright owners.
5) In signing this statement, the author(s) declare that the researches which they have conducted comply with the current laws of the respective country and UNIMAS Journal Publication Ethics Policy. Any experimentation or research involving humans or the use of animal samples must obtain approval from the Human or Animal Ethics Committee in their respective institutions. The author(s) agree and understand that UNIMAS Publisher is not responsible for any compensational claims or failure caused by the author(s) in fulfilling the above-mentioned requirements. The author(s) must accept the responsibility for releasing their materials upon request by Chief Editor or UNIMAS Publisher.
6) The author(s) should have participated sufficiently in the work and ensured the appropriateness of the content of the article. The author(s) should also agree that they have no commercial attachments (e.g. patent or license arrangement, equity interest, consultancies, etc.) that might pose any conflict of interest with the submitted manuscript. The author(s) also agree to make any relevant materials and data available upon request by the editor(s) or UNIMAS Publisher.