In-vitro Antibacterial Activity of Carbopol-Essential Oils hydrogels
Esam Yahya

Department of Microbiology, Faculty of Science, Al-Asmarya Islamic University, Zliten, Libya

https://orcid.org/0000-0002-1599-1754

Muhanad Abdullah Abdulsamad

Department of Molecular Biology, Faculty of Science, Sabratha University, 00218 Sabratha, Libya
Keywords:
Antimicrobial activity; essential oils; hydrogel; Carbopol Ultrez
Abstract
The invention pertains to develop drug delivery systems is still challenging, and many scientists joined the race to use more effective, less toxic, low cost, and sustainable systems for drug delivery. This research was carried out to formulate mixed essential oils loaded with carbopol hydrogels, and to evaluate their antibacterial activity against selected pathogens using disk diffusion method. Screening for antibacterial activity of essential oils was done prior to the fabrication of hydrogels. Clove essential oil exhibited the strongest antibacterial activity towards all tested pathogens followed by the cinnamon essential oil. Hydrogel formulation containing mixed essential oils showed the best antibacterial results compared to single oil formulations with an inhibition zone of 18‐23 mm for Staphylococcus aureus, 17‐20mm for Escherichia coli, and 14‐18mm for Pseudomonas aeruginosa. All hydrogel formulations were non-irritant, stable, and free of microorganisms. Minimal inhibitory concentrations of the essential oils were significantly affected by loading them in carbopol hydrogel.
References
Sharma, S., Hanif, M., Chopra, K. K., Sharma, M., Dwivedi, K. K., Sidiq, Z. & Dubey, M. (2018). Detection of multidrug resistance and extensively drug resistance among smear-negative extrapulmonary tuberculosis cases in a reference laboratory. Biomedical and Biotechnology Research Journal (BBRJ), Vol.2, No.2, 132.
https://doi.org/10.4103/bbrj.bbrj_48_18
Li, J., & Mooney, D. J. (2016). Designing hydrogels for controlled drug delivery. Nature Reviews Materials, Vol.1, No.12, 1-17.
https://doi.org/10.1038/natrevmats.2016.71
Yahya, E. B., Alfallous, K. A., Wali, A., Hameid, S., & Zwaid, H. (2020). Growth rate and antibiotic sensitivity effect of some natural and petroleum based materials on Staphylococcus aureus. International Journal for Research in Applied Sciences and Biotechnology, Vol.7, No.5, 7-11.
https://doi.org/10.31033/ijrasb.7.5.2
Bedewy, E. L., & Sabry, R. M. (2017). Multi drug resistant bacteria and its antibiotic susceptibility at Percutanous Endoscopic Gastrostomy (PEG) tube site of long term care facility elderly residents. The Egyptian Journal of Hospital Medicine, Vol.68, No.2, 1094-1100.
https://doi.org/10.12816/0039035
Yahya, E. B., Alhawari, S. M., Amhimmid, K., AbuAeshah, R. H. A., & Saada, A. O. (2018). Evaluation of in-vitroantibacterial activity of aqueous and alcoholic extracts of the peels punica granatum and olea europaea leaves. Journal of Sciences and Technologies (Medical Science), Vol.2, No.1, 36-44
Batool, K., Sultana, S., Akhtar, N., Asif, H. M., Akhtar, N., Ahmad, K., & Owais, A. (2018). Medicinal plants combating against human pathogens: A review. International Journal of Biotechnology and Food Science, Vol.6, No.3, 42-51.
Abdul Khalil, H. P. S., Adnan, A. S., Yahya, E. B., Olaiya, N. G., Safrida, S., Hossain, M. & Pasquini, D. (2020). A Review on plant cellulose nanofibre-based aerogels for biomedical applications. Polymers, Vol.12, No.8, 1759.
https://doi.org/10.3390/polym12081759
Yahya, E. B., Jummaat, F., Amirul, A. A., Adnan, A. S., Olaiya, N. G., Abdullah, C. K. & Khalil, H. P. S. (2020). A review on revolutionary natural biopolymer-based aerogels for antibacterial delivery. Antibiotics, Vol.9, No.10, 648.
https://doi.org/10.3390/antibiotics9100648
Nuryawan, A., Abdullah, C. K., Hazwan, C. M., Olaiya, N. G., Yahya, E. B., Risnasari, I., & Abdul Khalil, H. P. S. (2020). Enhancement of oil palm waste nanoparticles on the properties and characterization of hybrid plywood biocomposites. Polymers, Vol.12, No.5, 1007.
https://doi.org/10.3390/polym12051007
Gari, M. T., Admassu, S., Asfaw, B. T., Abebe, T., & Jayakumar, M. (2020). Review on: Extraction of essential oil (Gin Flavor) from Juniper Berries (Juniperus communis). Emerging Trends in Chemical Engineering, Vol.7, No.1, 19-28.
Cadena, M. B., Preston, G. M., Van der Hoorn, R. A., Townley, H. E., & Thompson, I. P. (2018). Species-specific antimicrobial activity of essential oils and enhancement by encapsulation in mesoporous silica nanoparticles. Industrial Crops and Products, Vol.122, 582-590.
https://doi.org/10.1016/j.indcrop.2018.05.081
Khalil, H. P. S., Jummaat, F., Yahya, E. B., Olaiya, N. G., Adnan, A. S., Abdat, M., & Suriani, A. B. (2020). A review on micro-to nanocellulose biopolymer scaffold forming for tissue engineering applications. Polymers, Vol.12, No.9, 2043.
https://doi.org/10.3390/polym12092043
Rattanamaneerusmee, A., Thirapanmethee, K., Nakamura, Y., & Chomnawang, M. T. (2018). Differentiation-inducing effect in human colon cancer cells of essential oils. Pharm Sci Asia, Vol.45, No.3, 154-160.
https://doi.org/10.29090/psa.2018.03.154
Bukhari, N., Joseph, J. P., Hussain, J., Adeeb, M. A. M., Wakim, M. J. Y., Yahya, E. B., & Sharif, N. (2019). Prevalence of human papilloma virus sub genotypes following head and neck squamous cell carcinomas in asian continent, A systematic review article. Asian Pacific Journal of Cancer Prevention: APJCP, Vol.20, No.11, 3269.
https://doi.org/10.31557/APJCP.2019.20.11.3269
Mahato, N., Sharma, K., Koteswararao, R., Sinha, M., Baral, E., & Cho, M. H. (2019). Citrus essential oils: Extraction, authentication and application in food preservation. Critical reviews in food science and nutrition, Vol.59, No.4, 611-625.
https://doi.org/10.1080/10408398.2017.1384716
Irshad, M., Subhani, M. A., Ali, S., & Hussain, A. (2020). Biological importance of essential oils. Essential Oils-Oils of Nature, IntechOpen
https://doi.org/10.5772/intechopen.87198
Dinkgreve, M., Fazilati, M., Denn, M. M., & Bonn, D. (2018). Carbopol: From a simple to a thixotropic yield stress fluid. Journal of Rheology, Vol.62, No.3, 773-780.
https://doi.org/10.1122/1.5016034
Shafiei, M., Balhoff, M., & Hayman, N. W. (2018). Chemical and microstructural controls on viscoplasticity in Carbopol hydrogel. Polymer, Vol.139, 44-51.
https://doi.org/10.1016/j.polymer.2018.01.080
Hurler, J., Engesland, A., Poorahmary Kermany, B., & Škalko‐Basnet, N. (2012). Improved texture analysis for hydrogel characterization: Gel cohesiveness, adhesiveness, and hardness. Journal of Applied Polymer Science, Vol.125, No.1, 180-188.
https://doi.org/10.1002/app.35414
Boyanova, L., Ilieva, J., Gergova, G., & Mitov, I. (2016). Levofloxacin susceptibility testing against Helicobacter pylori: evaluation of a modified disk diffusion method compared to E test. Diagnostic microbiology and infectious disease, Vol.84, No.1, 55-56.
https://doi.org/10.1016/j.diagmicrobio.2015.09.011
Matin, M. M., Roshid, M. H., Bhattacharjee, S. C., & Azad, A. K. (2020). PASS predication, antiviral, in vitro Antimicrobial, and ADMET studies of rhamnopyranoside esters. Medical Research Archives, Vol.8, No.7.
https://doi.org/10.18103/mra.v8i7.2165
Matin, M. M., Bhattacharjee, S. C., Chakraborty, P., & Alam, M. S. (2019). Synthesis, PASS predication, in vitro antimicrobial evaluation and pharmacokinetic study of novel n-octyl glucopyranoside esters. Carbohydrate research, Vol.485, 107812.
https://doi.org/10.1016/j.carres.2019.107812
Bajalan, I., Rouzbahani, R., Pirbalouti, A. G., & Maggi, F. (2017). Antioxidant and antibacterial activities of the essential oils obtained from seven Iranian populations of Rosmarinus officinalis. Industrial crops and products, Vol.107, 305-311.
https://doi.org/10.1016/j.indcrop.2017.05.063
Cui, H., Bai, M., & Lin, L. (2018). Plasma-treated poly (ethylene oxide) nanofibers containing tea tree oil/beta-cyclodextrin inclusion complex for antibacterial packaging. Carbohydrate polymers, Vol.179, 360-369.
https://doi.org/10.1016/j.carbpol.2017.10.011
Salvatori, C., Barchi, L., Guzzo, F., & Gargari, M. (2017). A comparative study of antibacterial and anti-inflammatory effects of mouthrinse containing tea tree oil. Oral & Implantology, Vol.10, No.1, 59.
https://doi.org/10.11138/orl/2017.10.1.059
Halcón, L., & Milkus, K. (2004). Staphylococcus aureus and wounds: a review of tea tree oil as a promising antimicrobial. American journal of infection control, Vol.32, No.7, 402-408.
https://doi.org/10.1016/j.ajic.2003.12.008
Oulkheir, S., Aghrouch, M., El Mourabit, F., Dalha, F., Graich, H., Amouch, F. & Chadli, S. (2017). Antibacterial activity of essential oils extracts from cinnamon, thyme, clove and geranium against a gram negative and gram positive pathogenic bacteria. Journal of diseases and medicinal plants, Vol.3, No.2-1, 1-5.
Franklyne, J. S., Iyer, S., Ebenazer, A., Mukherjee, A., & Chandrasekaran, N. (2019). Essential oil nanoemulsions: antibacterial activity in contaminated fruit juices. International Journal of Food Science & Technology, Vol.54, No.9, 2802-2810.
https://doi.org/10.1111/ijfs.14195
Purkait, S., Bhattacharya, A., Bag, A., & Chattopadhyay, R. R. (2020). Synergistic antibacterial, antifungal and antioxidant efficacy of cinnamon and clove essential oils in combination. Archives of Microbiology, 1-10.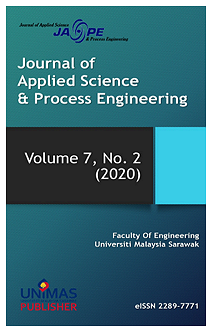 How to Cite
Yahya, E., & Abdulsamad, M. A. (2020). In-vitro Antibacterial Activity of Carbopol-Essential Oils hydrogels . Journal of Applied Science & Process Engineering, 7(2), 564-571. https://doi.org/10.33736/jaspe.2547.2020
Copyright (c) 2020 UNIMAS Publisher
This work is licensed under a Creative Commons Attribution-NonCommercial-ShareAlike 4.0 International License.
Copyright Transfer Statement for Journal
1) In signing this statement, the author(s) grant UNIMAS Publisher an exclusive license to publish their original research papers. The author(s) also grant UNIMAS Publisher permission to reproduce, recreate, translate, extract or summarize, and to distribute and display in any forms, formats, and media. The author(s) can reuse their papers in their future printed work without first requiring permission from UNIMAS Publisher, provided that the author(s) acknowledge and reference publication in the Journal.

2) For open access articles, the author(s) agree that their articles published under UNIMAS Publisher are distributed under the terms of the CC-BY-NC-SA (Creative Commons Attribution-Non Commercial-Share Alike 4.0 International License) which permits unrestricted use, distribution, and reproduction in any medium, for non-commercial purposes, provided the original work of the author(s) is properly cited.

3) For subscription articles, the author(s) agree that UNIMAS Publisher holds copyright, or an exclusive license to publish. Readers or users may view, download, print, and copy the content, for academic purposes, subject to the following conditions of use: (a) any reuse of materials is subject to permission from UNIMAS Publisher; (b) archived materials may only be used for academic research; (c) archived materials may not be used for commercial purposes, which include but not limited to monetary compensation by means of sale, resale, license, transfer of copyright, loan, etc.; and (d) archived materials may not be re-published in any part, either in print or online.

4) The author(s) is/are responsible to ensure his or her or their submitted work is original and does not infringe any existing copyright, trademark, patent, statutory right, or propriety right of others. Corresponding author(s) has (have) obtained permission from all co-authors prior to submission to the journal. Upon submission of the manuscript, the author(s) agree that no similar work has been or will be submitted or published elsewhere in any language. If submitted manuscript includes materials from others, the authors have obtained the permission from the copyright owners.

5) In signing this statement, the author(s) declare(s) that the researches in which they have conducted are in compliance with the current laws of the respective country and UNIMAS Journal Publication Ethics Policy. Any experimentation or research involving human or the use of animal samples must obtain approval from Human or Animal Ethics Committee in their respective institutions. The author(s) agree and understand that UNIMAS Publisher is not responsible for any compensational claims or failure caused by the author(s) in fulfilling the above-mentioned requirements. The author(s) must accept the responsibility for releasing their materials upon request by Chief Editor or UNIMAS Publisher.

6) The author(s) should have participated sufficiently in the work and ensured the appropriateness of the content of the article. The author(s) should also agree that he or she has no commercial attachments (e.g. patent or license arrangement, equity interest, consultancies, etc.) that might pose any conflict of interest with the submitted manuscript. The author(s) also agree to make any relevant materials and data available upon request by the editor or UNIMAS Publisher.
To download Copyright Transfer Statement for Journal, click here