Getting the Message Across: Examining Malaysia's Covid-19 Public Service Announcement (PSA) Infographics
Collin Jerome

Universiti Malaysia Sarawak

Su-Hie Ting

Universiti Malaysia Sarawak

Yuwana Podin

Universiti Malaysia Sarawak
Keywords:
COVID-19, Public Service Announcement, Infographic, Health Risk Communication, Malaysia
Abstract
The current COVID-19 pandemic has become an unprecedented public health crisis and there is much ongoing research investigating its wide-ranging impacts on all areas of society and people's everyday lives. This article presents preliminary findings of an ongoing study that inquires into Malaysia's COVID-19 public service announcement (PSA) infographics and how they convey much-needed information to the general public during the pandemic period. Drawing upon research on infographics in healthcare and health risk communication, the article examines COVID-19 PSA infographics that have been produced in Malaysia and the ways they achieve what they are designed to do. The findings show that the infographics 1) are numerous and mostly presented in the informational and process-based types, 2) cover various topics related to the information on the novel virus, its risks, and recommended preventive and control measures, 3) possess key components of infographic and (4) adopt a three-way process of engaging the target audience. The findings also reveal several key points worth considering in thinking about the infographics, including whether they communicate the right message to the right audience at the right time and whether they are designed according to the principles of message design in health risk communication.
References
Abd Latiff, D. I., Mohd Zulkifli, M. A. A., & Abd Ghani, S. N. F. (2013). The influences of Malaysian animated public service announcements (PSAs) on public health and safety campaigns and their effectiveness among students. Social and Management Research Journal, 10(2), 73-89.
Balkac, M., & Ergun, E. (2018). Role of infographics in healthcare. Chinese Medical Journal, 131, 2514-2517
Chan, K., & Chang, H. C. (2013). Advertising to Chinese youth: A study of public service ads in Hong Kong. Qualitative Market Research, 16(4), 421-435.
Chan, W. K. (2020, March 15). 'Covid-19 hour' tomorrow? Fake news, says health ministry. The Malay Mail. Retrieved from https://www.malaymail.com/news/malaysia/2020/03/15/ covid-19-hour-tomorrow-fake-news-says-health-ministry/1846866
Covello, V. T., Peters, R. G., Wojtecki, J. G., & Hyde, R. C. (2001). Risk communication, the West Nile virus epidemic, and bioterrorism: responding to the communication challenges posed by the intentional or unintentional release of a pathogen in an urban setting. Journal of Urban Health, 78(2), 382-391.
Crane, B. E. (2016). Infographics: A Practical Guide for Librarians. Lanham: Rowman & Littlefield.
Dur, B. I. U. (2014). Interactive infographics on the internet. Online Journal of Art and Design, 2(4), 1-14.
Dzulkifli, A. R. (2020, March 20). Winning the Covid-19 war. New Straits Time. Retrieved from https://www.nst.com.my/opinion/columnists/2020/03/576467/winning-covid-19-war
Gamage, S. D., Kralovic, S. M., & Roselle, G. A. (2010). Emerging infectious diseases: Concepts in preparing for and responding to the next microbial threat. In K. Koenig & C.H. Schultz (Eds.), Koenig and Schultz's disaster medicine: Comprehensive principles and practices (pp.75-102). New York: Cambridge University Press.
Huang, P. (2020). The Coronavirus crisis: Explainer - What does the World Health Organization do? Retrieved from https://www.npr.org/sections/goatsandsoda/2020/04/28/847453237/ what-is-who-and-what-does-it-do
Kadri S. M., Rehman, S. -ur., Rehana, K., & Gergianaki, I. (2016). Zika virus disease (ZIKV) infographics, language-tailored: Innovations and good practices in integrated disease surveillance program Kashmir, India 2016. Journal of MPE Molecular Pathological Epidemiology, 2(S1), 1-4.
Knorr, A. (2019). Infographics: A powerful combination of words, images, and data. In L. A. Sabatino & B. Fallon (Eds.), Multimodal composing: Strategies for twenty-first-century writing consultations (pp. 97-109). Louisville: Utah State University Press.
Kreuter, M. W., Green, M. C., Cappella, J. N., Slater, M. D., Wise, M. E., Storey, D., Clark, E. M., O'Keefe, D. J., Erwin, D. O., Holmes, K., Hinyard, L. J., Houston, T., & Woolley, S. (2007). Narrative communication in cancer prevention and control: A framework to guide research and application. Ann Behav Med, 33(3), 231-235.
Krum, R. (2014). Cool Infographics: Effective Communication with Data Visualization and Design. Indianapolis: John Wiley & Sons, Inc.
Laan, S. (2013). Infographic: Healthcare industry building trust through social media. Infographic Achieve. Retrieved from https://www.infographicsarchive.com/infographic-healthcare-industry-building-trust-through-social-media/
Lankow, J., Ritchie, J., & Crooks, R. (2012). Infographics: The Power of Visual Storytelling. Hoboken: John Wiley & Sons.
Lipkus, I. M., & Hollands, J. G. (1999). The visual communication of risk. JNCI monographs, 1999(25), 149-163.
Lipworth, W. L., Davey, H. M., Carter, S. M., Hooker, C., & Hu, W. (2010). Beliefs and beyond: what can we learn from qualitative studies of lay people's understandings of cancer risk? Health Expectations, 13(2), 113-124.
Martiniuk, A., Secco, M., Yake, L., & Speechley, K. N. (2010). Evaluating the effect of a television public service announcement about epilepsy. Health Education Research, 25(6), 1050-1060.
McCrorie, A., Donnelly, C., & McGlade, K. J. (2016). Infographics: Healthcare communication for the digital age. Ulster Med J, 85(2), 71-75. Ministry of Health Malaysia (MOH) (2020). COVID-19 infografik. Retrieved from http://covid-19.moh.gov.my/infografik
Omar, A. H. (2016). Positioning languages in the Malaysian education system. In A. H. Omar (Ed.), Languages in the Malaysian education system: Monolingual strands in multilingual settings (1st ed., pp. 1-30). Oxon: Routledge. Palansamy, Y. (2020, March 31). Ministry's MCO advice to women: Wear make-up while working at home, speak to spouse in Doraemon voice and giggle coyly. The Malay Mail. Retrieved from https://www.malaymail.com/news/malaysia/2020/03/31/ministrys-mco-advice-to-women-wear-make-up-while-working-at-home-speak-to-s/1851985
Rekhraj, H. S. (2015, April 25). The power of PSAs. The Star. Retrieved from https://www.thestar.com.my/news/education/2015/04/26/the-power-of-psas
Schroeder, J., Plapper, E., Zeng, H., & Krile, B. (2016). Public perception of safety messages and public service announcements on dynamic message signs in rural areas. Retrieved from https://ops.fhwa.dot.gov/publications/fhwahop16048/fhwahop16048.pdf
Scott, H., Fawkner, S., Oliver, C., & Murray, A. (2016). Why healthcare professionals should know a little about infographics. British Journal of Sports Medicine, 50(18),11014-1105.
Shin, H. (2016). Epidemic and Risk Communication: An Analysis of Strategic and Graphic Characteristics of Infographics (Unpublished Master's Thesis). USA: Iowa State University.
Siricharoen, W. V., & Siricharoen, N. (2015). How infographics should be evaluated. Retrieved from http://icit.zuj.edu.jo/icit15/DOI/Multimedia_and_Its_Applications/0100.pdf
Smith, D. S., & Birtwhistle, R. (2012). Exploring patient perceptions of PSA screening for prostate cancer: Risk, effectiveness, and importance. Canadian Family Physician, 58(9), e502-e507.
Soo, W. J. (2020, April 19). Want to win Covid-19 fake news war? Make information readily available, human rights groups tell govt. The Malay Mail. Retrieved from https://www.malaymail.com/news/malaysia/2020/04/19/want-to-win-covid-19-fake-news-war-make-information-readily-available-human/1858143
Stones, C., & Gent, M. (2015a, July 14-15). "If The Guardian can do it, we should be able to do it!" Examining public health infographic strategies used by public health professionals. In: Design4Health 2015 proceedings. Design4Health 2015. Sheffield Hallam University.
Stones, C., & Gent, M. (2015b). The 7 G.R.A.P.H.I.C. Principles of Public Health Infographic Design. Leeds: University of Leeds.
Sugget, P. (2019, June 25). Understanding public service announcements. The Balance Careers. Retrieved from https://www.thebalancecareers.com/what-exactly-is-public-service-advertising-38455
Rodriguez, R. A., & Kissell, S. M. (2013). The medium and the message: Strategies for effective communication. In J. E. Fielding, S. M. Teutsch, & S. N. Caldwell (Eds.), Public health practice: What works (pp. 66-75). New York: Oxford University Press.
Tan, J. (2020, April 1). Malaysian ministry's series of 'sexist' social posts a wake up call on purposeful PSA. Marketing Interactive. Retrieved from https://www.marketing-interactive.com/malaysian-ministry-s-series-of-sexist-social-posts-a-wake-up-call-on-purposeful-psa
Tran, T., Valecha, R., Rad, P., & Rao, H. R. (2020, December 21-22). An investigation of misinformation harms related to social media during humanitarian crises. In S. K. Sahay, N. Goel, V. Patil, & M. Jadliwala (Eds.), Secure knowledge in artificial intelligence era: Proceeding of 8th international conference, SKM 2019 (pp. 167-181). Goa, India.
World Health Organization (WHO) (2020). COVID-19 infographics. Retrieved from https://www.who.int/westernpacific/news/multimedia/infographics/covid-19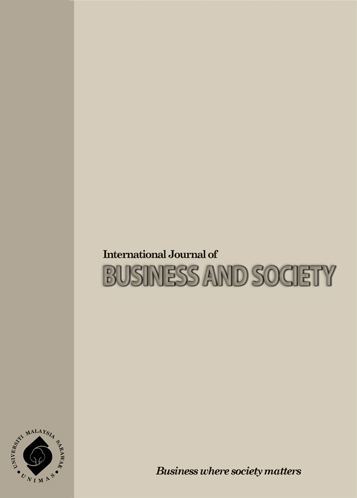 How to Cite
Collin Jerome, Su-Hie Ting, & Yuwana Podin. (2021). Getting the Message Across: Examining Malaysia's Covid-19 Public Service Announcement (PSA) Infographics. International Journal of Business and Society, 22(1), 194-212. https://doi.org/10.33736/ijbs.3170.2021
Copyright Transfer Statement for Journal
1) In signing this statement, the author(s) grant UNIMAS Publisher an exclusive license to publish their original research papers. The author(s) also grant UNIMAS Publisher permission to reproduce, recreate, translate, extract or summarize, and to distribute and display in any forms, formats, and media. The author(s) can reuse their papers in their future printed work without first requiring permission from UNIMAS Publisher, provided that the author(s) acknowledge and reference publication in the Journal.

2) For open access articles, the author(s) agree that their articles published under UNIMAS Publisher are distributed under the terms of the CC-BY-NC-SA (Creative Commons Attribution-Non Commercial-Share Alike 4.0 International License) which permits unrestricted use, distribution, and reproduction in any medium, for non-commercial purposes, provided the original work of the author(s) is properly cited.

3) For subscription articles, the author(s) agree that UNIMAS Publisher holds copyright, or an exclusive license to publish. Readers or users may view, download, print, and copy the content, for academic purposes, subject to the following conditions of use: (a) any reuse of materials is subject to permission from UNIMAS Publisher; (b) archived materials may only be used for academic research; (c) archived materials may not be used for commercial purposes, which include but not limited to monetary compensation by means of sale, resale, license, transfer of copyright, loan, etc.; and (d) archived materials may not be re-published in any part, either in print or online.

4) The author(s) is/are responsible to ensure his or her or their submitted work is original and does not infringe any existing copyright, trademark, patent, statutory right, or propriety right of others. Corresponding author(s) has (have) obtained permission from all co-authors prior to submission to the journal. Upon submission of the manuscript, the author(s) agree that no similar work has been or will be submitted or published elsewhere in any language. If submitted manuscript includes materials from others, the authors have obtained the permission from the copyright owners.

5) In signing this statement, the author(s) declare(s) that the researches in which they have conducted are in compliance with the current laws of the respective country and UNIMAS Journal Publication Ethics Policy. Any experimentation or research involving human or the use of animal samples must obtain approval from Human or Animal Ethics Committee in their respective institutions. The author(s) agree and understand that UNIMAS Publisher is not responsible for any compensational claims or failure caused by the author(s) in fulfilling the above-mentioned requirements. The author(s) must accept the responsibility for releasing their materials upon request by Chief Editor or UNIMAS Publisher.

6) The author(s) should have participated sufficiently in the work and ensured the appropriateness of the content of the article. The author(s) should also agree that he or she has no commercial attachments (e.g. patent or license arrangement, equity interest, consultancies, etc.) that might pose any conflict of interest with the submitted manuscript. The author(s) also agree to make any relevant materials and data available upon request by the editor or UNIMAS Publisher.