Minimum Effective Dose of Chlorantraniliprole and Chromafenozide to Control Oil Palm Bunch Moth Tirathana mundella Walker
PATRICIA JIE HUNG KING

Faculty of Agricultural Science and Forestry, Universiti Putra Malaysia Bintulu Sarawak Campus, Bintulu, Sarawak, Malaysia; Institut Ekosains Borneo, Universiti Putra Malaysia Bintulu Sarawak Campus, Nyabau Road, 97008 Bintulu, Sarawak, Malaysia

CHONG MING SU

Faculty of Agricultural Science and Forestry, Universiti Putra Malaysia Bintulu Sarawak Campus, Bintulu, Sarawak, Malaysia

YEE MIN KWAN

Faculty of Agricultural Science and Forestry, Universiti Putra Malaysia Bintulu Sarawak Campus, Bintulu, Sarawak, Malaysia

ZAKRY FITRI AB AZIZ

Faculty of Agricultural Science and Forestry, Universiti Putra Malaysia Bintulu Sarawak Campus, Bintulu, Sarawak, Malaysia

KIAN HUAT ONG

Faculty of Agricultural Science and Forestry, Universiti Putra Malaysia Bintulu Sarawak Campus, Bintulu, Sarawak, Malaysia
Keywords:
Chlorantraniliprole, Chromafenozide, Tirathaba mundella
Abstract
The bunch moth, Tirathaba mundella is one of the leading pests in oil palm estates established on peatland. Severely infested male inflorescences usually would fail reaching anthesis. Reduction in the number of inflorescences at anthesis stage would suggest less food source and breeding ground for oil palm pollinating weevils, Elaeidobius kamerunicus, thus, affecting the fruiting percentage of oil palm and its yield. Despite to be less detrimental to the environment, biopesticide usages in the field is losing favour due to its slower rate of kill compared with conventional chemical pesticides, shorter persistence in the environment and susceptibility to unfavourable environmental conditions. The use of high host specificity chemical pesticides, such as chlorantraniliprole and chromafenozide are gaining popularity in pest management regimes. In this study, the optimum dose for chlorantraniliprole and chromafenozide in controlling T. mundella was assessed to provide valuable information for sustainable oil palm pest management. Several dosages of pesticide were evaluated for their effectiveness against T. mundella in a 7-year-old oil palm estate for six months.   Based on the results obtained, application of 30 g or 40 g active ingredient (a.i.) per ha chlorantraniliprole were recommended to provide the longest protection period. To make plan for an effective pest management that could reduce material and labour cost per ha as well as the risks in developing pesticide resistance among pest, 30 g a.i per ha of chlorantraniliprole is recommended to be rotated with 25 g a.i. per ha chromafenozide for a total of four rounds in a year.
References
Adriana, M. (2003). Environmental fate of indoxacarb. Retrieved March 4, 2021, from https://go-forth.com/wpcontent/uploads/2013/10/indoxacarb.pdf.
Ahmed, K.S., El-Bermawy, S.M., Ismael, E.H., Abdel-Gawwad, R.M. & Saleh, T.A. (2015). Histopathological effects of diflubenzuron and chromafenozide (IGRs) on egg development in the cotton leafworm Spodoptera littoralis (Boisd.) (Lepidoptera, Noctuidae). Journal of Bioscience and Applied Research, 1(4): 147-153.
https://doi.org/10.21608/jbaar.2015.106020
Axel, D., Kristin, E.B., Niels, M.F. & Michael, D.W. (2009). Chlorantraniliprole (Rynaxypyr): A novel DuPontTM insecticide with low toxicity and low risk for honey bees (Apis mellifera) and bumble bees (Bombas terrestris) providing excellent tools for uses in integrated pest management. In Oomen, P.A. and Thompson, H.M. (eds). Proceedings from 10th International Symposium of the ICP-Bee Protection Group, 8-10 October 2008, Bucharest, Romania. Pp. 548-555.
Becker, N., Zgomba, M., Ludwig, M., Petric, D. & Rettich, F. (1992). Factors influencing the activity of Bacillus thuringiensis var. israelensis treatments. Journal of the American Mosquito Control Association, 8(3): 285-289.
Brugger, K.E. & Kannuck, R.M. (1997). Tier 1 environmental risk assessment of DPX- MP062 and competitive insecticides in the USA. Dupont Agricultural Products Document No. AMR 4635-97.
Chua, C.K., Ooi, K.E., Abdul, R.R., Paula, G.M. & Lee, K.L. (2010). Chlorantraniliprole: a novel insecticide for bagworm (Metisa plana) control in oil palm plantation. The Planter, 86(1009): 223-235.
Deepak, S., Eitan, B., Robert, M., Ze'ev, B., Sammy, B. & Arieh, Z. (2001). A UV tolerant mutant of Bacillus thuringiensis subsp. kurstaki producing melanin. Current Microbiology, 44: 25-30.
https://doi.org/10.1007/s00284-001-0069-6
Dunkle, R.L. & Shasha, B.S. (1989). Response of starch-encapsulated Bacillus thuringiensis containing ultraviolet screens to sunlight. Environmental Entomology, 18(6): 1035-1041.
https://doi.org/10.1093/ee/18.6.1035
Ghoneim, K. & Tanani, M. (2017). Antifeedant activity and detrimental effects of ecdysteroid agonist chromafenozide on the food metabolic parameters of Schistocera gregaria (Forsk.) (Orthoptera: Acrididae). International Journal of Entomology Research, 2(2): 6-16.
Gustavo, M.T., Senseman, S.A., Marchesan, E., Camargo, E.R., Jones, T. & McCauley, G. (2015). Residues of thiamethoxam and chlorantraniliprole in rice grain. Journal of Agricultural and Food Chemistry, 63(8): 2119-2126.
https://doi.org/10.1021/jf5042504
Hadi, M., Thomas, S., Swevers, L., Kostas, L., Nakagawa, Y. & Smagghe, G. (2008). Non-steroidal ecdysteroid agonist chromafenozide: gene induction activity, cell proliferation inhibition and larvicidal activity. Pesticide Biochemistry and Physiology, 92(2): 70-76.
https://doi.org/10.1016/j.pestbp.2008.06.004
Lahm, G.P., Selby, T.P., Freudenberger, J.H., Stevenson, T.N., Myers, B.J., Seburyamo, G., Smith, B.K., Flexner, L., Clark, C.E. & Cordova, D. (2005). Insecticidal anthranilic diamides: a new class of potent ryanodine receptor activators. Bioorganic and Medicinal Chemistry Letters, 15(22): 4898-4906.
https://doi.org/10.1016/j.bmcl.2005.08.034
Lahm, G.P., Stevenson, T.M., Selby, T.P., Freudenberger, J.H., Cordova, D., Flexner, L., Bellin, C.A., Dubas, C.M., Smith, B.K., Hughes, K.A., Hollingshaus, J.G., Clark, C.E. & Berner, E.A. (2007). RynaxypyrTM: a new insecticidal athranilic diamides that acts as a potent and selective ryanodine receptor activator. Bioorganic and Medicinal Chemistry Letters, 17(22): 6274-6279.
https://doi.org/10.1016/j.bmcl.2007.09.012
Mikio, Y., Yoshihisa, T., Tetsuo, W. & Akiyoshi, K. (2006). Development of a novel lepidopteran insect control agent, chromafenozide. Journal of Pesticide Science, 31(2): 163-164.
https://doi.org/10.1584/jpestics.31.182
Parthiban, P., Ravikumar, A. & Chinniah, C. (2016). Newer insecticidal molecules and their implication on pest management- eco-friendly insecticides for IPM. Advances in Life Sciences. 5(23): 10854-10859.
https://doi.org/10.21894/jopr.2017.2903.04
Saharul, A.M., Zulkefli, M., Ramle, Mohamad, M.R.S., Su, C.M., Siaw, T.C., Norman, K., Siti, R.A.A. & Siti, N.A. (2017). Biological agents and insecticides to control bunch moth, Tirathaba rufivena in oil palm estates in Sarawak, Malaysia. Journal of Oil Palm Research, 29(3): 323-332.
https://doi.org/10.1603/029.102.0524
Saleh, T.A. & Abdel-Gawad, R.M. (2018). Electrophoretic and colorimetric pattern of protein and isozyme as reflex to diflubenzuron and chromafenozide treatments of Spodoptera littoralis (Boisd). Journal of Entomology and Zoology Studies, 6(3): 1651-1660.
Saxena, D., Smruti, P. & Guenther, S. (2010). Fate and effects in soil of cry proteins from Bacillus thuringiensis: influence of physicochemical and biological characteristics of soil. The Open Toxinology Journal, 3(1): 151-171.
https://doi.org/10.2174/1875414701003010151
Spomer, A.N., Kamble, S.T. & Siegfried, D.B. (2009). Bioavailability of chlorantraniliprole and indoxacarb to eastern subterranean termites (Isoptera: Rhinotermitidae) in various soils. Journal of Economic Entomology, 102(5): 1922-1927.
https://doi.org/10.1603/029.102.0524
Su, C.M. (2016). Management of oil palm bunch moth (Tirathaba mundella Walker) in young mature oil palm plantation on peat soil in Sarawak, Malaysia. (Master thesis), Universiti Putra Malaysia, Malaysia.
Su, C.M., King, J.H.P., Kwan, Y.M., Zakry, F.A. & Ong, K.H. (2020). Economic injury level of oil palm bunch moth, Tirathaba mundella Walker for pest management recommendations in oil palm production. Journal of Oil Palm Research, 33(1): 37-45.
https://doi.org/10.21894/jopr.2020.0090
Szpyrka, E., Matyaszek, A., & Slowik-Borowise, M. (2017). Dissipation of chlorantraniliprole, chlorpyrifos-methyl and indoxacarb insecticides used to control codling moth (Cydia pomonella L.) and leafrollers (Tortricidae) in apples for production of baby food. Environmental Science and Pollution Research, 24(13): 12128- 12135.
https://doi.org/10.1007/s11356-017-8821-z
Temple, J.H., Pommireddy, P.L., Cook, D.R., Marcon, P. & Leonard, B.R. (2009). Susceptibility of selected lepidopteran pests to rynaxypyr, a novel insecticide. The Journal of Cotton Science, 13: 23-31.
Wing, K.D., Sacher, M.E., Kagaya, Y., Tsurubuchi, Y., Mulderig, L., Connair, M. & Schnee, M. (2000). Bioactivation and mode of action of the oxadiazine indoxacarb in insects. Crop Protection, 19(8-10): 537-545.
https://doi.org/10.1016/S0261-2194(00)00070-3
Yu, S.J. (2014). The toxicology and biochemistry of insecticides. Second Edition. Boca Raton: CRC Press.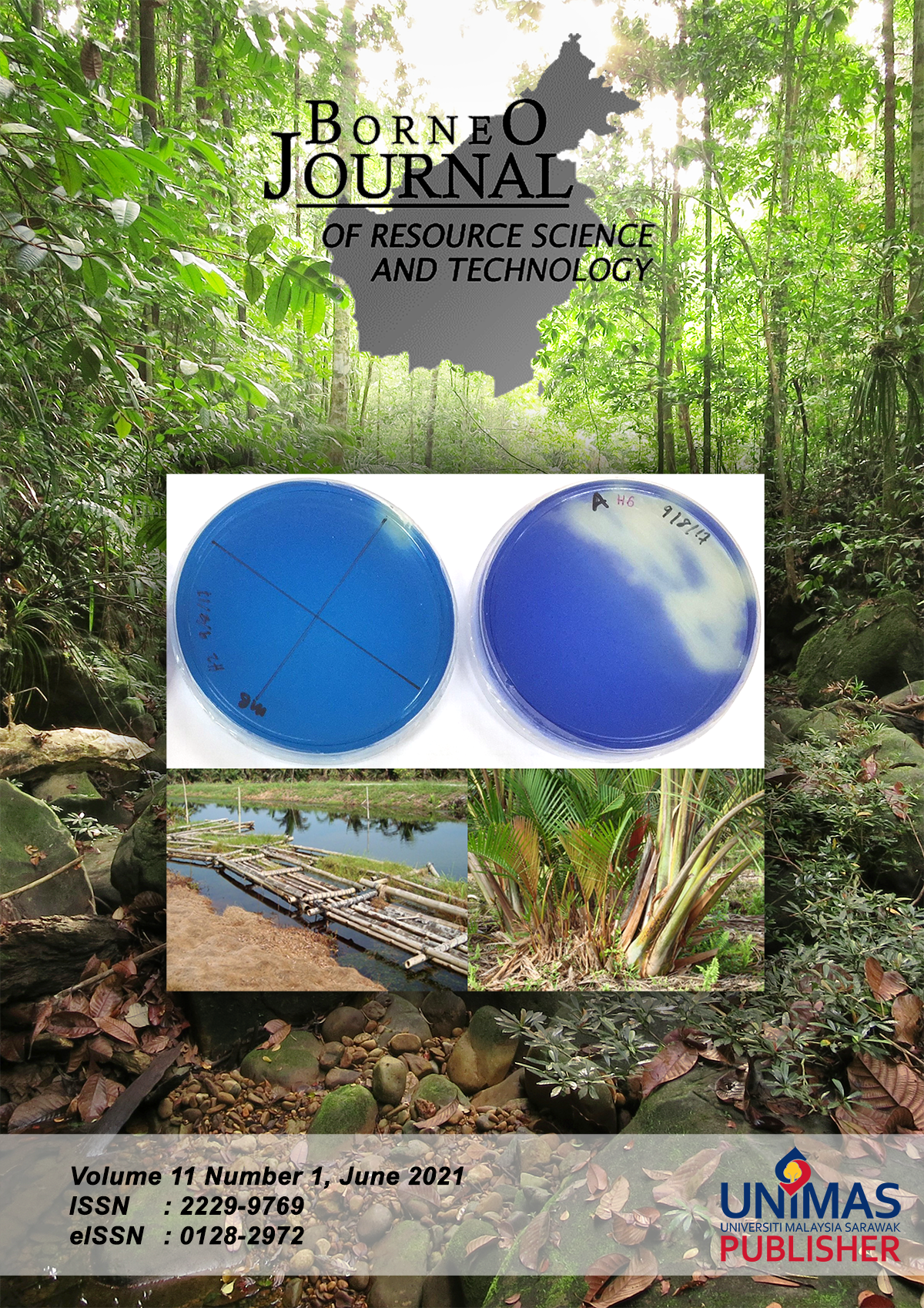 How to Cite
KING, P. J. H., SU, C. M., KWAN, Y. M., AB AZIZ, Z. F., & ONG, K. H. (2021). Minimum Effective Dose of Chlorantraniliprole and Chromafenozide to Control Oil Palm Bunch Moth Tirathana mundella Walker. Borneo Journal of Resource Science and Technology, 11(1), 51-63. https://doi.org/10.33736/bjrst.3151.2021
Copyright (c) 2021 Borneo Journal of Resource Science and Technology
This work is licensed under a Creative Commons Attribution-NonCommercial 4.0 International License.
Copyright Transfer Statement for Journal
1) In signing this statement, the author(s) grant UNIMAS Publisher an exclusive license to publish their original research papers. The author(s) also grant UNIMAS Publisher permission to reproduce, recreate, translate, extract or summarize, and to distribute and display in any forms, formats, and media. The author(s) can reuse their papers in their future printed work without first requiring permission from UNIMAS Publisher, provided that the author(s) acknowledge and reference publication in the Journal.

2) For open access articles, the author(s) agree that their articles published under UNIMAS Publisher are distributed under the terms of the CC-BY-NC-SA (Creative Commons Attribution-Non Commercial-Share Alike 4.0 International License) which permits unrestricted use, distribution, and reproduction in any medium, for non-commercial purposes, provided the original work of the author(s) is properly cited.

3) For subscription articles, the author(s) agree that UNIMAS Publisher holds copyright, or an exclusive license to publish. Readers or users may view, download, print, and copy the content, for academic purposes, subject to the following conditions of use: (a) any reuse of materials is subject to permission from UNIMAS Publisher; (b) archived materials may only be used for academic research; (c) archived materials may not be used for commercial purposes, which include but not limited to monetary compensation by means of sale, resale, license, transfer of copyright, loan, etc.; and (d) archived materials may not be re-published in any part, either in print or online.

4) The author(s) is/are responsible to ensure his or her or their submitted work is original and does not infringe any existing copyright, trademark, patent, statutory right, or propriety right of others. Corresponding author(s) has (have) obtained permission from all co-authors prior to submission to the journal. Upon submission of the manuscript, the author(s) agree that no similar work has been or will be submitted or published elsewhere in any language. If submitted manuscript includes materials from others, the authors have obtained the permission from the copyright owners.

5) In signing this statement, the author(s) declare(s) that the researches in which they have conducted are in compliance with the current laws of the respective country and UNIMAS Journal Publication Ethics Policy. Any experimentation or research involving human or the use of animal samples must obtain approval from Human or Animal Ethics Committee in their respective institutions. The author(s) agree and understand that UNIMAS Publisher is not responsible for any compensational claims or failure caused by the author(s) in fulfilling the above-mentioned requirements. The author(s) must accept the responsibility for releasing their materials upon request by Chief Editor or UNIMAS Publisher.

6) The author(s) should have participated sufficiently in the work and ensured the appropriateness of the content of the article. The author(s) should also agree that he or she has no commercial attachments (e.g. patent or license arrangement, equity interest, consultancies, etc.) that might pose any conflict of interest with the submitted manuscript. The author(s) also agree to make any relevant materials and data available upon request by the editor or UNIMAS Publisher.