A Life Cycle Assessment (LCA) Approach on the Production of Sago Sucker for Cultivation
NAJWA SULAIMAN

Malaysian Palm Oil Board, No.6, Persiaran Institusi, Bandar Baru Bangi, 43000 Kajang, Selangor, Malaysia

NIK SASHA KHATRINA KHAIRUDDIN

Malaysian Palm Oil Board, No.6, Persiaran Institusi, Bandar Baru Bangi, 43000 Kajang, Selangor, Malaysia

MAIZAN ISMAIL

Malaysian Palm Oil Board, No.6, Persiaran Institusi, Bandar Baru Bangi, 43000 Kajang, Selangor, Malaysia

CHEE BENG YEOH

Malaysian Palm Oil Board, No.6, Persiaran Institusi, Bandar Baru Bangi, 43000 Kajang, Selangor, Malaysia

FARAH KHUWAILAH AHMAD BUSTAMAM

Malaysian Palm Oil Board, No.6, Persiaran Institusi, Bandar Baru Bangi, 43000 Kajang, Selangor, Malaysia
Keywords:
Life cycle assessment, life cycle inventory, sago, sucker
Abstract
Sago palm is one of the commodities being cultivated and traded in Malaysia for its high starch content. Sago seedling, or commonly referred to as sucker, is the planting material for sago cultivation. This paper discusses the life cycle assessment approach for the calculation of life cycle inventory for the production of one sago sucker. In this study, the functional unit is defined as one sago sucker. The process starts from the reception of suckers from suppliers, raft preparation, planting sago suckers in rafts, fertilization, and ends with transportation of the suckers to the plantation. Interviews and data verification were done on-site at the Crop Research and Application Unit (CRAUN) Sungai Talau Research Station. LCI data showed that water was the main input for the production of sago sucker, followed by diesel for transportation, pesticides, and fertilisers. The outcome of this study provides a basis or guideline to planters in implementing sago best agricultural practices for the production of sustainable sago.
References
Abd Aziz, S. (2002). Sago starch and its utilisation. Journal of Bioscience and Bioengineering, 94(6): 526-529.
https://doi.org/10.1016/S1389-1723(02)80190-6
Alamaria, A.M., Nawawi, M.G.M. & Zamrud, Z. (2015). Sago/PVA blend membranes for the recovery of ethyl acetate from water. Arabian Journal of Chemistry, 12(8): 2183-2191.
https://doi.org/10.1016/j.arabjc.2014.12.019
Avraamides, M. & Fatta, D. (2008). Resource consumption and emissions from olive oil production: A life cycle inventory case study in Cyprus. Journal of Cleaner Production, 16: 809-821.
https://doi.org/10.1016/j.jclepro.2007.04.002
Bhat, R., Abdullah, N., Din, R.H. & Tay, G.S. (2013). Producing novel sago starch based food packaging films by incorporating lignin isolated from oil palm black liquor waste. Journal of Food Engineering, 119: 707-713.
https://doi.org/10.1016/j.jfoodeng.2013.06.043
Bintoro, H.M.H., Purwanto, Y.J. & Amarillis, S. (2010) Sagu di lahan gambut. IPB Press, Bogor. (in Indonesian).
Birkved, M. & Hauschild, M.Z. (2006). PestLCI - A model for estimating field emissions of pesticides in agricultural LCA. Ecological Modelling, 198: 433-451.
https://doi.org/10.1016/j.ecolmodel.2006.05.035
Chew, T.A., Md Isa, A.H. & Mohyidin, M.G. (1998). The sago industry in Malaysia: Present status and future prospects. In Jin Z, Liang Q, Liang Y, Tan X and Guan L. (eds.). Proceedings of the 7th International Working Conference on Stored-Product Protection, 14-19 October 1998, Beijing, China. pp. 1720-1728.
Deep Resource (2012). Energy related conversion factors. Retrieved February 21st, 2020, from https://deepresource.wordpress.com/2012/04/23/energy-related-conversion-factors/
Flach, M. & Schuilling, D.L. (1989). Revival of an ancient starch crop: A review of the agronomy of the sago palm. Agroforestry Systems, 7: 259-281.
https://doi.org/10.1007/BF00046972
Flach, M. (1997). Sago palm. Metroxylon sagu Rottb. Promoting the conservation and use of underutilized and neglected crops. 13. Institute of Plant Genetics and Crop Plant Research, Gatersleben/International Plant Genetic Resources Institute, Rome, Italy.
Halimah, M., Tan, Y.A., Nik Sasha, K.K., Zuriati, Z., Rawaida, A.I. & Choo, Y.M. (2013). Determination of life cycle inventory and greenhouse gas emissions for a selected oil palm nursery in Malaysia: A case study. Journal of Oil Palm Research, 25(3): 343-347.
Hansen, S. (2007). Feasibility study of performing an life cycle assessment on crude palm oil production in Malaysia. The International Journal of Life Cycle Assessment, 12: 50-58.
https://doi.org/10.1065/lca2005.08.226
Howell, P.S., Abdullah, N.A.P., Busri, N., Bulan, P., Jiwan, M., Abdullah, Z.C. & Ahmed, O.H. (2015). Food reserve composition in sago palm (Metroxylon sagu Rottb.) and influence of cluster age on survivability at the nursery stage. Proceeding - Kuala Lumpur International Agriculture, Forestry and Plantation, 12-13 September 2015, Kuala Lumpur, Malaysia.
Ishizaki, A. (1997). Concluding remarks for the Sixth International Sago Symposium at Riau, Indonesia. Sago Communication 8 (pp. 22-25). Japan: Tsukuba Sago Fund.
Jamaludin, A.R., Kasim, S.R., Abdullah, M.Z. & Ahmad, Z.A. (2014). Sago starch as binder and pore-forming agent for the fabrication of porcelain foam. Ceramics International, 40: 4777-4784.
https://doi.org/10.1016/j.ceramint.2013.09.023
Jong, F.S. (2018). An overview of sago industry development, 1980s-2015. In Ehara H., Toyoda Y., Johnson D. (eds.) Sago Palm. Singapore: Springer. pp. 75-89.
https://doi.org/10.1007/978-981-10-5269-9_6
Karim, A.A., Pei-Lang, A., Manan, D.M.A & Zaidul, I.S.M. (2008). Starch from the sago (Metroxylon sagu) palm tree - properties, prospects and challenges as a new industrial source for food and other uses. Comprehensive Reviews in Food Science and Food Safety, 7: 215-228.
https://doi.org/10.1111/j.1541-4337.2008.00042.x
Khairuddin, N.S.K., Ismail, B.S., Muhamad, H. & May, C.Y. (2013). Life cycle inventory for the production of germinated oil palm seeds at a selected seed production unit in Malaysia. AIP Conference Proceedings, 1571: 583-588.
https://doi.org/10.1063/1.4858717
McClatchey, W., Manner, H.I. & Elevitch, C.R. (2006). Metroxylon amicarum, M. paulcoxii, M. sagu, M. salomonense, M. vitiense and M. warburgii (sago palm), ver. 2.1 In Elevitch CR (ed.). Species profiles for Pacific Island agroforestry. Holualoa, H.I. Permanent Agriculture Resources (PAR). Pp. 22.
Mohamad Naim, H., Yaakub, A.N. & Awang Hamdan, D.A. (2016). Commercialization of sago through estate plantation scheme in Sarawak: The way forward. International Journal of Agronomy, 2016: 1-6.
https://doi.org/10.1155/2016/8319542
Pei-Lang, A.T., Mohamed, A.M.D. & Karim, A.A. (2006). Sago starch and composition of associated components in palms of different growth stages. Carbohydrate Polymers, 63: 283-286.
https://doi.org/10.1016/j.carbpol.2005.08.061
Shamsul, A. (2018). Sago starch 10 years' performance. Retrieved August 23, 2019, from https://data.sarawak.gov.my/home/data/dataset/8470f507-a099-4c1e-9854-d1bebd140aa7
Singhal, R.S., John, F.K., Sajilata, M.G., Agnieszka, K., Charles, J.K. & Putri, F.A. (2008). Industrial production, processing, and utilization of sago palm-derived products. Carbohydrate Polymers, 72:1-20.
https://doi.org/10.1016/j.carbpol.2007.07.043
Stanton, W.R. (1991). Long-term and ancillary environmental benefits from sago agroforestry systems. In Ng Thai-Tsiung, Tie Yiu-Liong & Kueh Hong-Siong (eds.). Proceedings of the Fourth International Sago Symposium. 6-9 August 1991, Kuching, Malaysia. Pp. 24-35.
Wahi, R., Chuah, L.A., Ngaini, Z., Nourouzi, M.M. & Choong, T.S.Y. (2014). Esterification of M. sagu bark as an adsorbent for removal of emulsified oil. Journal of Environmental Chemical Engineering, 2: 324-331.
https://doi.org/10.1016/j.jece.2013.12.010
Yahya, M., Mahyuddin, M., Alimon, A.R., Abdullah, N. & Ivan, M. (2011). Sago pith meal based diets in sheep containing different sources of nitrogen: Feed preparation, growth performance, digestibility and carcass quality. Animal Feed Science and Technology, 170: 45-52.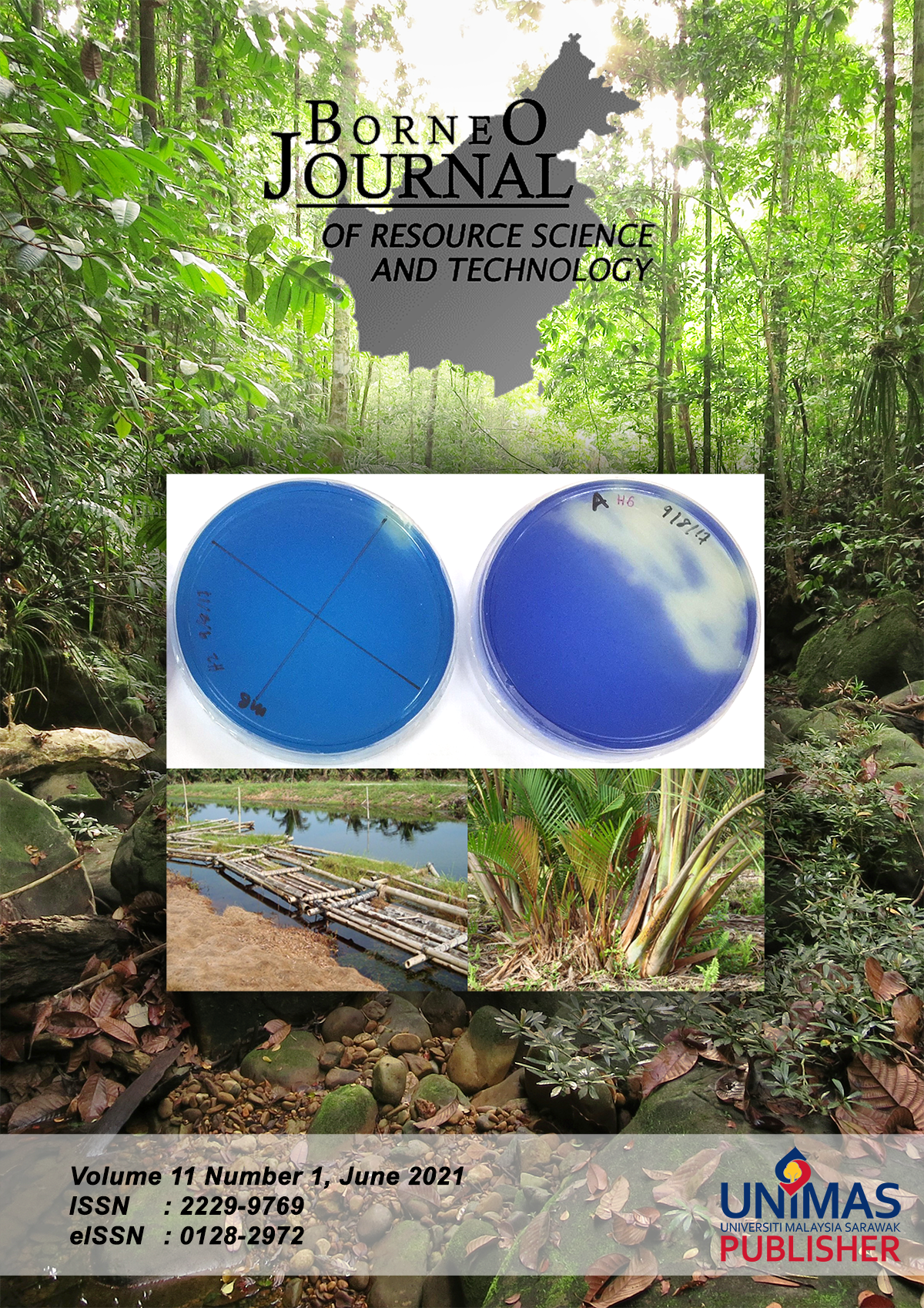 How to Cite
SULAIMAN, N., KHAIRUDDIN, N. S. K., ISMAIL, M., YEOH , C. B., & AHMAD BUSTAMAM, F. K. (2021). A Life Cycle Assessment (LCA) Approach on the Production of Sago Sucker for Cultivation. Borneo Journal of Resource Science and Technology, 11(1), 64-72. https://doi.org/10.33736/bjrst.2948.2021
Copyright (c) 2021 Borneo Journal of Resource Science and Technology
This work is licensed under a Creative Commons Attribution-NonCommercial 4.0 International License.
Copyright Transfer Statement for Journal
1) In signing this statement, the author(s) grant UNIMAS Publisher an exclusive license to publish their original research papers. The author(s) also grant UNIMAS Publisher permission to reproduce, recreate, translate, extract or summarize, and to distribute and display in any forms, formats, and media. The author(s) can reuse their papers in their future printed work without first requiring permission from UNIMAS Publisher, provided that the author(s) acknowledge and reference publication in the Journal.

2) For open access articles, the author(s) agree that their articles published under UNIMAS Publisher are distributed under the terms of the CC-BY-NC-SA (Creative Commons Attribution-Non Commercial-Share Alike 4.0 International License) which permits unrestricted use, distribution, and reproduction in any medium, for non-commercial purposes, provided the original work of the author(s) is properly cited.

3) For subscription articles, the author(s) agree that UNIMAS Publisher holds copyright, or an exclusive license to publish. Readers or users may view, download, print, and copy the content, for academic purposes, subject to the following conditions of use: (a) any reuse of materials is subject to permission from UNIMAS Publisher; (b) archived materials may only be used for academic research; (c) archived materials may not be used for commercial purposes, which include but not limited to monetary compensation by means of sale, resale, license, transfer of copyright, loan, etc.; and (d) archived materials may not be re-published in any part, either in print or online.

4) The author(s) is/are responsible to ensure his or her or their submitted work is original and does not infringe any existing copyright, trademark, patent, statutory right, or propriety right of others. Corresponding author(s) has (have) obtained permission from all co-authors prior to submission to the journal. Upon submission of the manuscript, the author(s) agree that no similar work has been or will be submitted or published elsewhere in any language. If submitted manuscript includes materials from others, the authors have obtained the permission from the copyright owners.

5) In signing this statement, the author(s) declare(s) that the researches in which they have conducted are in compliance with the current laws of the respective country and UNIMAS Journal Publication Ethics Policy. Any experimentation or research involving human or the use of animal samples must obtain approval from Human or Animal Ethics Committee in their respective institutions. The author(s) agree and understand that UNIMAS Publisher is not responsible for any compensational claims or failure caused by the author(s) in fulfilling the above-mentioned requirements. The author(s) must accept the responsibility for releasing their materials upon request by Chief Editor or UNIMAS Publisher.

6) The author(s) should have participated sufficiently in the work and ensured the appropriateness of the content of the article. The author(s) should also agree that he or she has no commercial attachments (e.g. patent or license arrangement, equity interest, consultancies, etc.) that might pose any conflict of interest with the submitted manuscript. The author(s) also agree to make any relevant materials and data available upon request by the editor or UNIMAS Publisher.