Razor Clams (Class Bivalvia) of Kuala Selangor, Malaysia: Morphology, Genetic Diversity and Heavy Metal Concentration
Ruhana Hassan

Devagi Kanakaraju
Keywords:
Razor clam, morphology, COI gene, heavy metal
Abstract
Razor Clam (Bivalvia) could be easily identified as having two long, narrow shell valves connected by hinges, two siphons and one strong foot. It plays important role in ecological services besides providing food and extra income for the coastal communities. As filter feeder, razor clam is a good indicator for heavy metal contamination in aquatic environments. In Selangor, razor clam is locally known as 'siput buluh', yet, there is no proper scientific documentation on this species. This short study was carried out to assess the morphology of razor clams in Selangor for species identification and to sequence the Cytochrome Oxidase I (COI) gene for determination of its genetic diversity. Heavy sea traffics occurred in the sea near to the mudflat where razor clams were abundantly found has raised question whether razor clams were safe to be consumed. Therefore, this study is also designed to determine the level of selected heavy metals concentration in different body parts of razor clams. Based on selected morphometric and meristic data, razor clams of Kuala Selangor obtained during this study were Solen sarawakensis although many individuals displayed darker outer shell colouration and slightly thicker, longer and heavier shells. Based on analyses of putative COI gene sequences of approximately 677bp, there was a strong genetic divergence (11.7%) between S. sarawakensis inhabiting Kuala Selangor and Kuching Bay, Sarawak suggesting that although both razor clams were very similar morphologically, they could actually be two different species. Tissues of razor clams sampled from mudflat area in Kuala Selangor showed high concentration of Fe (146.50 mg/kg) and Mn (94.00 mg/kg). Other heavy metal elements namely Cr (42.50 mg/kg) and Cd (33.00 mg/kg) were also recorded during this study, occurring mainly in the shells. Traces of Hg were also detected, and its concentration did not differ much among the different parts analyzed.
References
Abbott, T. & Dance, P.S. (1982). Compendium of seashells. E.P. Dutton, Inc., 2 Park Avenue, New York. pp 338-339.
Altschul, S.F., Gish, W., Miller, W., Myer, E.W., & Lipman, D.J. (1990). Basic Local Alignment Search Tool. Journal of Molecular Biology, 215: 403-410.
https://doi.org/10.1016/S0022-2836(05)80360-2
Boyden, C.R. & Phillips, D.J.H. (1981). Seasonal variation and inherent variability of trace elements in oysters and their implications for indicator studies. Marine Ecology Program Series, 5: 29-40.
https://doi.org/10.3354/meps005029
Bradley, R.D. & Baker, R.J. (2001). A Test of the Genetic Species Concept: Cytochrome b Sequences in Mammals. Journal of Mammalogy, 82: 960-973.
https://doi.org/10.1644/1545-1542(2001)082<0960:ATOTGS>2.0.CO;2
Bryan, G.W., Langston, W.J., Hummerstone, L.G., & Burt, G.R. (1985). A guide to the assessment of heavy metals contamination in estuaries using biological indicator. Marine Biological Association of the United Kingdom: Devon.
Cosel, R. von. (1990). An introduction to Razor Shells (Bivalvia: Solenacea). In Morton, B. (Ed). The Bivalvia: Proceedings of Memorial Symposium in Honour of Sir Charles Maurice Yonge, Edinburgh 1986. Hong Kong University Press.
Chen, L.M., Kong, X.Y., Yu, Z.N., Yu, S.S., & Xu, H. (2005). Sequence comparison and phylogenetic relationship of mtDNA 16SrRNA and COI gene fragments in three species of razor shell. Marine Sciences, 29: 223-231.
Duquesne, S.J. & Coll, J.C. (1995). Metal accumulation in the clam Tridacna crocea under natural and experimental conditions. Aquatic Toxicology, 32: 239-253.
https://doi.org/10.1016/0166-445X(94)00089-9
Food and Agricultural Organization (FAO). (1983). Compilation of legal limits for hazardous substance in fish and fishery products. FAO Fishery Circular, No. 464, pp. 5-100.
Grewe, P.E., Krueger, C.C., Aquadro, C.F., Bermingham, E., Kincaid, H.L. & May, B. (1993). Mitochondrial DNA variation among lake trout (Salvelinus namaycush) strains stocked into Lake Ontario. Canadian Journal of Fisheries and Aquatic Sciences, 7: 2397-2403.
https://doi.org/10.1139/f93-264
Hassan, R. & Laiping, F. (2008). Some aspects on socio-economic of razor clam fisheries at Kuching Bay Sarawak. Proceedings of the 5th National Fisheries Symposium 2008, Jabatan Perikanan Malaysia. 87-92 pp.
Hassan, R., Rahim, S. A.K.A., & Nyanti, L. (2007). Razor clams (Solen spp.) of Kuching Bay, Sarawak, Malaysia. Paper presented at the Conference on Biodiversity: Balancing Conservation and Production - Case Studies from the Real World, 26th -28th June 2007, University of Tasmania, Launceston, Australia.
Hung, T.M. & Hassan, R. (2007). Application of multivariate techniques in determining morphological variation in Genus Solen of Kuching Bay area in Sarawak. Paper presented at the International Conference at Mathematical Science held in Kuala Lumpur, 28-29 November 2007. Universiti Malaya, Malaysia.
Ji, J., Choi, H.J., and Ahn, I-Y. (2006). Evaluation of Manila clam Ruditapes philippinarum as a sentinel species for metal pollution monitoring in estuarine tidal flats of Korea: Effects of size, sex, and spawning on baseline accumulation. Marine Pollution Bulletin, 52: 447-468.
https://doi.org/10.1016/j.marpolbul.2005.12.012
Kehrig, H.A., Costa, M., Moreira, I., & Malm, O. (2006). Total and methyl mercury in different species of molluscs from two estuaries in Rio de Janeiro State. Journal of Brazilian Chemical Society, 17: 1409-1418.
https://doi.org/10.1590/S0103-50532006000700031
Khalid, M,E-M. & Mohamed, H.Y. (2005). Accumulation patterns of heavy metals in venus clams, Paphia undulata (Born, 1780) and Gafrarium pectinatum (Linnaeus, 1758) from Lake Timsah, Suez Canal, Egypt. Egyptian Journal of Aquatic Research, 31: 13-30.
Kumari, L.K., Kaisary, S., & Rodrigues, V. (2006). Bio-accumulation of some trace metals in the short-neck clam Paphia malabarica from Mandovi estuary, Goa. Marine Pollution Ecotoxicology, 32: 229-234.
https://doi.org/10.1016/j.envint.2005.08.016
Lamprell, K & Healy, J. (1998). Bivalves of Australia. Volume 2. Backhuys Publishers. Leiden.
Lau, S., Mohamed, M.A., Yen, T.C., & Su'ut, S. (1998). Accumulation of heavy metals in Freshwater Mollusc. The Science of the Total Environment, 214: 113-121.
https://doi.org/10.1016/S0048-9697(98)00058-8
MacCarthy, G. (1996). CHROMAS 1.45 program. Queensland, Australia.
Oliver, P.G. (1992). Bivalved Seashell of the Red Sea. National Museum of Wales, Cathays Park, Cardiff CF1 3NP, Wales, U.K, pp 134-136.
Pechenik, J.A. (2000). Biology of the invertebrates. Fourth edition. USA: McGraw-Hill High Education Publication.
Pearce, N.J.G. & Mann, V.L. (2006). Trace metal variations in the shells of Ensis siliqua record pollution and environmental conditions in the sea to the west of mainland Britain. Marine Pollution Bulletin, 52: 739-755.
https://doi.org/10.1016/j.marpolbul.2005.11.003
Rahim, S.A.K.A. & Hassan, R. (2009). Razor clam fishery in Kuching and Samarahan Division. In Latif et al. (Eds.). Proceedings of International Conference on Marine Ecosystem. Universiti Kebangsaan Malaysia and National Oceanographic Directorate, Malaysia. 156-163 pp.
Rahim, S.A.K.A. & Tan, C.Y. (2008). Study on the natural stock of razor clams (Family Solenidae in Kuching Bay, Sarawak. Paper presented at the 7th International Annual Symposium on Sustainability Science and Management (UMTAS), 8-10 June 2008, Universiti Malaysia Terengganu.
Rayment, G.E. & Barry, G.A. (2000). Indicator tissues for heavy metal monitoring - additional attributes. Marine Pollution Bulletin, 41: 353-358.
https://doi.org/10.1016/S0025-326X(00)00128-4
Rinyod, A.M.R. & Rahim, S.A.K.A. (2011). Reproductive cycle of the razor clam Solen regularis Dunker, 1862 in the western part of Sarawak, Malaysia based on Gonadal Condition Index. Journal of Sustainability Science and Management 6(1):10-18.
Ruelas-Inunza, J.R. & Páez-Osuna, F. (2000). Comparative bioavailability of trace metal using three filter-feeder organisms in a subtropical costal environment (Southeast Gulf of California). Environmental Pollution, 107: 737-444.
https://doi.org/10.1016/S0269-7491(99)00157-8
Tamura, K., Dudley, J., Nei, M., & Kumar, S. (2007). MEGA4: Molecular Evolutionary Genetics Analysis (MEGA) software version 4.0. Molecular Biology and Evolution, 24: 1596-1599.
https://doi.org/10.1093/molbev/msm092
Thompson J.D, Gibson T.J., & Plewniak, F. (1997). The Clustal X windows interface: flexible strategies for multiple sequence alignment aided by the quality analysis tools. Nucleic Acids Research, 24: 4876-4882.
https://doi.org/10.1093/nar/25.24.4876
World Health Organization. (1988). Chromium. Environment Health Criteria. No. 61. Geneva, Switzerland.
Yap, C.K., Hatta, Y., Edward, F.B., & Tan, S.G. (2008). Comparison of heavy metal concentrations (Cd, Cu, Fe, Ni and Zn) in the shells and different soft tissues of Anadara granosa collected from Jeram, Kuala Juru and Kuala Kurau, Peninsular Malaysia. Pertanika Journal Tropical Agriculture Science, 31(2): 205-215.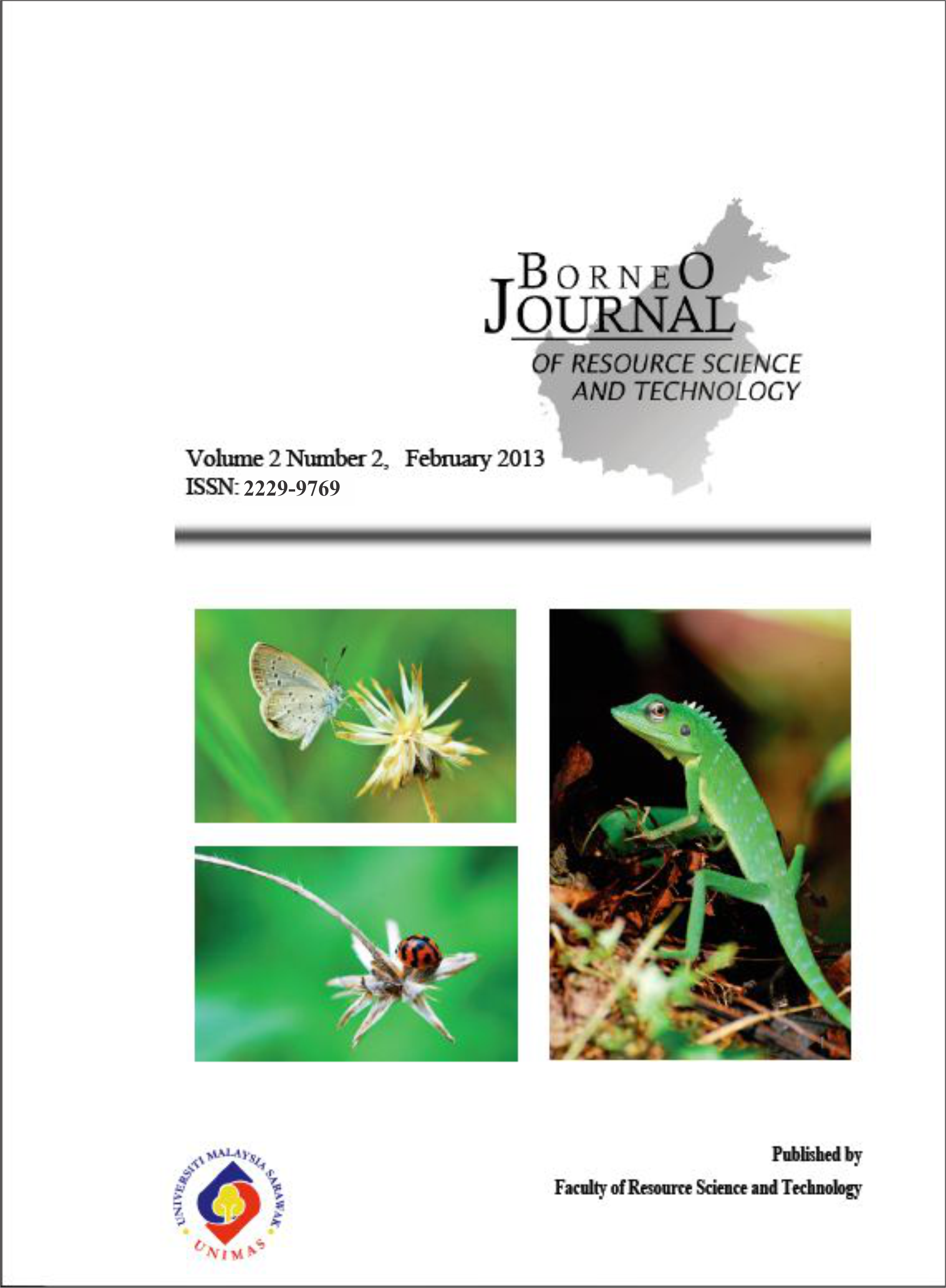 How to Cite
Hassan, R., & Kanakaraju, D. (2016). Razor Clams (Class Bivalvia) of Kuala Selangor, Malaysia: Morphology, Genetic Diversity and Heavy Metal Concentration. Borneo Journal of Resource Science and Technology, 2(2), 19-27. https://doi.org/10.33736/bjrst.275.2013
Copyright (c) 2016 Borneo Journal of Resource Science and Technology
This work is licensed under a Creative Commons Attribution-NonCommercial 4.0 International License.
Copyright Transfer Statement for Journal
1) In signing this statement, the author(s) grant UNIMAS Publisher an exclusive license to publish their original research papers. The author(s) also grant UNIMAS Publisher permission to reproduce, recreate, translate, extract or summarize, and to distribute and display in any forms, formats, and media. The author(s) can reuse their papers in their future printed work without first requiring permission from UNIMAS Publisher, provided that the author(s) acknowledge and reference publication in the Journal.

2) For open access articles, the author(s) agree that their articles published under UNIMAS Publisher are distributed under the terms of the CC-BY-NC-SA (Creative Commons Attribution-Non Commercial-Share Alike 4.0 International License) which permits unrestricted use, distribution, and reproduction in any medium, for non-commercial purposes, provided the original work of the author(s) is properly cited.

3) For subscription articles, the author(s) agree that UNIMAS Publisher holds copyright, or an exclusive license to publish. Readers or users may view, download, print, and copy the content, for academic purposes, subject to the following conditions of use: (a) any reuse of materials is subject to permission from UNIMAS Publisher; (b) archived materials may only be used for academic research; (c) archived materials may not be used for commercial purposes, which include but not limited to monetary compensation by means of sale, resale, license, transfer of copyright, loan, etc.; and (d) archived materials may not be re-published in any part, either in print or online.

4) The author(s) is/are responsible to ensure his or her or their submitted work is original and does not infringe any existing copyright, trademark, patent, statutory right, or propriety right of others. Corresponding author(s) has (have) obtained permission from all co-authors prior to submission to the journal. Upon submission of the manuscript, the author(s) agree that no similar work has been or will be submitted or published elsewhere in any language. If submitted manuscript includes materials from others, the authors have obtained the permission from the copyright owners.

5) In signing this statement, the author(s) declare(s) that the researches in which they have conducted are in compliance with the current laws of the respective country and UNIMAS Journal Publication Ethics Policy. Any experimentation or research involving human or the use of animal samples must obtain approval from Human or Animal Ethics Committee in their respective institutions. The author(s) agree and understand that UNIMAS Publisher is not responsible for any compensational claims or failure caused by the author(s) in fulfilling the above-mentioned requirements. The author(s) must accept the responsibility for releasing their materials upon request by Chief Editor or UNIMAS Publisher.

6) The author(s) should have participated sufficiently in the work and ensured the appropriateness of the content of the article. The author(s) should also agree that he or she has no commercial attachments (e.g. patent or license arrangement, equity interest, consultancies, etc.) that might pose any conflict of interest with the submitted manuscript. The author(s) also agree to make any relevant materials and data available upon request by the editor or UNIMAS Publisher.