Study of Blue-Green Algae and Assessment of the Microcystin in Shrimp Aquaculture Farms in Sarawak
LIM MUI HUA

KU KASSIM KU YAACOB
Abstract
Blue-green algae blooms can cause severe water quality deterioration including scum formation and toxin production. A total of 17 shrimp farms in Sarawak were assessed from February to July 2018 for the abundance of blue-green algae (cyanobacteria) and the levels of microcystin in the tissue of shrimps using enzyme-linked immunosorbent assay (ELISA). There was a high cell count of Microcystis sp. at 6.77 x 108 cells/ L in Muara Tebas, Anabaena sp. at 4.99 x 107 cells / L in Telaga Air and Pseudanabaena sp. at 1.69 x 108 cells/ L in Kuala Baram. Microcystin was detected in most of the shrimp samples collected from the 17 farms in Sarawak throughout the study. The highest level of microcystin was 0.448 ppb, which was detected in Selabat whereas a value below 0.15 ppb was detected in Bandar Baru Semariang, Santubong and Oya. This study demonstrated that microcystin was detected in aquaculture samples collected from shrimp farms in Sarawak. It is, therefore, necessary to further conduct an investigation on blue-green algae in shrimp farms and methods to control their growth.
References
Anderson, D.M., Galloway, S.B. & Joseph, J.D. (1993). Marine Biotoxins and Harmful Algae: A National Plan. Woods Hole Oceanographic Institution. Technical Report WHOI-93-02.
https://doi.org/10.1575/1912/614
Backer, L., Landsberg, J., Miller, M., Keel, K., & Taylor, T. (2013). Canine cyanotoxin poisonings in the United States (1920s-2012): Review of suspected and confirmed cases from three data sources. Toxins, 5(9): 1597-1628.
https://doi.org/10.3390/toxins5091597
Beck, C., Knoop, H., Axmann, I. M. & Steuer, R. (2012). The diversity of cyanobacterial metabolism: Genome analysis of multiple phototrophic microorganisms. BMC Genomics, 13(56): 1-17.
https://doi.org/10.1186/1471-2164-13-56
Boyd, C.E. (1998). Water Quality for Pond Aquaculture. Department of Fisheries and Allied Aquacultures, Auburn University, Alabama, USA.
Carmichael, W.W., Azevedo, S.M.F.O., An, J.S. & Molica, R.J.R. (2001). Human fatalities from cyanobacteria: chemical and biological evidence for cyanotoxins. Environmental Health Perspectives, 109 (7): 663-668.
https://doi.org/10.1289/ehp.01109663
Chen, Z., Sun, H., Xie, P., Wang, J., Zhang, G., Chen, N.,Yan, W. & Li, G. (2014). The role of apoptosis in MCLR-induced developmental toxicity in zebrafish embryos. Aquatic Toxicology, 149: 25-32.
https://doi.org/10.1016/j.aquatox.2014.01.021
Chen, J., Xie, P., Li, L. & Xu, J. (2009). First identification of the hepatotoxic microcystins in the serum of a chronically exposed human population together with indication of hepatocellular damage. Toxicological Sciences, 108: 81-89.
https://doi.org/10.1093/toxsci/kfp009
Chorus, E.I. & Bartram, J. (1999). Toxic Cyanobacteria in Water: A Guide to Their Public Health Consequences, Monitoring and Management. E & FN Spon, London and New York.
https://doi.org/10.4324/9780203478073
Chorus, I., Niesel, V., Fastner, J., Wiedner, C., Nixdorf, B. & Lindenschmidt, K.E. (2001). Environmental factors and Microcystin levels in Waterbodies. In: Chorus, I. (Ed.), Cyanotoxins: Occurrence, Causes Consequences. Springer-Verlag, Berlin, Heidelberg, Pp. 159-177.
Dai, R., Liu, H., Qu, J., Ru, J. & Hou, Y. (2008). Cyanobacteria and their toxins in Guanting reservoir of Beijing, China. Journal of Hazardous Materials, 153(1-2): 470-477.
https://doi.org/10.1016/j.jhazmat.2007.08.078
DeFigueiredo, D.R., Azeiteiro, U.M., Esteves, S.M., Gonc, Alves, F.J. & Pereira, M.J. (2004). Microcystin-producing blooms - a serious global public health issue. Ecotoxicology and Environment Safety, 59: 151-163. Department of Fisheries Statistics (2017). Annual Publication of Fisheries Statistics from Department of Fisheries (DOF), published by DOF.
https://doi.org/10.1016/j.ecoenv.2004.04.006
Dokulil, M. T. & Teubner, K. (2000). Cyanobacterial dominance in lakes. Hydrobiologia, 438: 1-12.
https://doi.org/10.1023/A:1004155810302
Ernst, B., Hitzfeld, B.C. & Dietrich, D. (2001). Presence of Planktothrix sp. and cyanobacterial toxins in Lake Ammersee, Germany and their impact on white fish (Coregonuslavaretus L.). Environmental Toxicology, 16: 483-488.
https://doi.org/10.1002/tox.10006
Falconer, I.R. (2008). Health Effects Associated With Controlled Exposures to Cyanobacterial Toxins. In: Cyanobacterial Harmful Algal Blooms: State of the Science and Research Needs. Springer New York. Pp. 607-612.
https://doi.org/10.1007/978-0-387-75865-7_27
Fujimoto, N., Sudo, R., Sugiura, N. & Inamori, Y. (1997). Nutrient‐limited growth of Microcystis Aeruginosa and Phormidium Tenue and competition under various N: P supply ratios and temperatures. Limnology and Oceanography, 42(2): 250-256.
https://doi.org/10.4319/lo.1997.42.2.0250
Gobler, C.J., Davis, T.W., Coyne, K.J. & Boyer, G.L. (2007). Interactive influences of nutrient loading, zooplankton grazing, and microcystin synthetase gene expression on cyanobacterial bloom dynamics in a eutrophic New York lake. Harmful Algae, 6: 119-133.
https://doi.org/10.1016/j.hal.2006.08.003
Guzman-Guillen, R., Prietoa, A.I., Vazquez, C.M., Vasconcelos, V. & Camean, A.M.. (2013). The protective role of l-carnitine against cylindrospermopsin-induced oxidative stress in tilapia (Oreochromis niloticus). Aquatic Toxicology, 132: 141- 150.
https://doi.org/10.1016/j.aquatox.2013.02.011
Ibelings, B.W. & Chorus, I. (2007). Accumulation of cyanobacterial toxins in freshwater ''seafood'' and its consequences for public health: a review. Environmental Pollution, 150: 177-192
https://doi.org/10.1016/j.envpol.2007.04.012
Jackson, P.E. (2000). Ion chromatography in environmental analysis. Encyclopedia of Analytical Chemistry. John Wiley & Sons Ltd, Chichester. Pp. 2779-2801.
https://doi.org/10.1002/9780470027318.a0835
Janse, I., Kardinaal, W.E.A., Agterveld, M.K.V., Meima, M., Visser, P.M. & Zwart, G. (2005). Contrasting microcystin production and cyanobacterial population dynamics in two Planktothrix-dominated freshwater lakes. Environmental Microbiology, 7: 1514-1524.
https://doi.org/10.1111/j.1462-2920.2005.00858.x
Kankaanpää, H.T., Holliday, J., Schröder, H., Goddard, T.J., von Fister, R. & Carmichael, W.W. (2005). Cyanobacteria and prawn farming in Northern New South Wales, Australia - A case study on cyanobacteria diversity and hepatotoxin bioaccumulation. Toxicology and Applied Pharmacology, 203: 243-256.
https://doi.org/10.1016/j.taap.2004.04.012
Kazuhiro, F., Naohiro, N., Satoshi, T., Takeshi, S., Tomoaki, I. & Yuhei, I. (2006). Highly sensitive real-time PCR assay for quantification of toxic cyanobacteria based on microcystin synthetase A gene. Journal of Bioscience and Bioengineering, 102: 90-96.
https://doi.org/10.1263/jbb.102.90
Kumar, M., Kulshreshtha, J. & Singh, G.P. (2011). Growth and biopigment accumulation of cyanobacterium Spirulina Platensis at different light Intensities and temperature. Brazilian Journal of Microbiology, 42: 1128-1135.
https://doi.org/10.1590/S1517-83822011000300034
Kurmayer, R., Christiansen, G. & Chorus, I. (2003). The abundance of microcystin producing genotypes correlates positively with colony size in Microcystis sp. and determines its microcystin net production in Lake Wannsee. Applied and Environmental Microbiology, 69: 787-795.
https://doi.org/10.1128/AEM.69.2.787-795.2003
Landsberg, J.H. (2002). The effects of harmful algal blooms on aquatic organisms. Reviews in Fisheries Science, 10(2): 113-390.
https://doi.org/10.1080/20026491051695
Lürling, M., Eshetu, F., Faassen, E. J., Kosten, S. & Huszar, V.L. (2012). Comparison of cyanobacterial and green algal growth rates at different temperatures. Freshwater Biology, 58: 552-559.
https://doi.org/10.1111/j.1365-2427.2012.02866.x
Marine Water Quality Criteria and Standards, MWQS-DOE. (2019). A Guideline of the Malaysian Marine Water Quality Standards and Index from Department of Environment (DOE). Published by DOE.
Mitsuhiro, Y., Takashi, Y., Yukari, T., Naohiko, H. & Shingo, H. (2007). Dynamics of microcystin-producing and non-microcystin producing Microcystis populations is correlated with nitrate concentration in a Japanese lake. FEMS Microbiology Letters, 266: 49-53.
https://doi.org/10.1111/j.1574-6968.2006.00496.x
Mohamad, R., Rafatullah, M., Yusof, T.N., Sim, Y.J., Ismail, N., & Lalüng, J. (2016). Detection of microcystin (mcyE) gene in recreational lakes in Miri, Sarawak, Malaysia. Current World Environment, 11(3): 690-699.
https://doi.org/10.12944/CWE.11.3.02
Mosleh, M.A., Manssor, H., Malek, S., Milow, P. & Salleh, A. (2011). A preliminary study on automated freshwater algae recognition and classification system. BMC Bioinformatics, 13(17): S25.
https://doi.org/10.1186/1471-2105-13-S17-S25
Nasarudin, M.H. & Ruhana, H. (2007). Preliminary study on cyanobacteria composition and selected water quality parameters from freshwater fish (Tor tambroides) ponds in Serian, Sarawak. In Proceedings of NREM & ESH. Pp. 249-258.
Nasarudin, M.H. & Ruhana, H. (2011). Blue-green algae and nutrient concentration in two Tor tambroides aquaculture ponds differing in construction. Journal of Tropical Biology and Conservation, 8: 51-61.
Paerl, H.W. & Huisman, J. (2009). Climate change: a catalyst for global expansion of harmful cyanobacterial blooms. Environmental Microbiology Reports, 1: 27-37.
https://doi.org/10.1111/j.1758-2229.2008.00004.x
Pandey, G. (2013). Feed formulation and feeding technology for fishes. International Research Journal of Pharmacy, 4(3): 23-30.
https://doi.org/10.7897/2230-8407.04306
Peng, L., Liu, Y., Chen, W., Liu, L., Kent, M. & Song, L. (2010). Health risks associated with consumption of microcystin-contaminated fish and shellfish in three chinese lakes: significance for freshwater aquacultures. Ecotoxicology and environmental safety, 73(7): 1804-1811.
https://doi.org/10.1016/j.ecoenv.2010.07.043
Poste, A.E., Hecky, R.E. & Guildford, S.J. (2011). Evaluating microcystin exposure risk through fish consumption. Environmental Science & Technology, 45(13): 5806-5811.
https://doi.org/10.1021/es200285c
Qiao, Q., Liu, W., Wu, K., Song, T., Hu, J., Huang, X., Wen, J., Chen, L. & Zhang, X. (2013). Female zebrafish (Danio rerio) are more vulnerable than males to microcystin-LR exposure, without exhibiting estrogenic effects. Aquatic toxicology, 142: 272-282.
https://doi.org/10.1016/j.aquatox.2013.07.002
Rinta-Kanto, J.M. & Wilhelm, S.W. (2006). Diversity of microcystin-producing cyanobacteria in spatially isolated regions of Lake Erie. Applied and Environmental Microbiology, 72: 5083-5085.
https://doi.org/10.1128/AEM.00312-06
Rodgers, J.H. (2008). Algal Toxins in Pond Aquaculture. Stoneville, Mississippi: Southern Regional Aquaculture Center.
Sangolkar, L.N., Maske, S.S., Muthal, P.L., Kashyap, S.M., & Chakrabarti, T. (2009). Isolation and characterization of microcystin producing Microcystis from a Central Indian water bloom. Harmful algae, 8(5): 674-684.
https://doi.org/10.1016/j.hal.2008.12.003
Schmidt, J.R., Shaskus, M., Estenik, J.F., Oesch, C., Khidekel, R. & Boyer, G.L. (2013). Variations in the microcystin content of different fish species collected from a eutrophic lake. Toxins. 5(5): 992-1009.
https://doi.org/10.3390/toxins5050992
Sim, Y.J. (2015). Molecular detection of cyanobacterial toxin and control of cyanobacterial population using selected crop wastes. (Master Thesis) Universiti Sains Malaysia.
Sinang, S.C., Poh, K.B., Shamsudin, S. & Sinden (2015). A preliminary assessment of cyanobacteria diversity and toxic potential in ten freshwater lakes in Selangor, Malaysia. Bulletin Environmental Contamination of Toxicology, 95(4): 542-547.
https://doi.org/10.1007/s00128-015-1620-7
Singh, S., Srivastava, A., Oh, H.-M., Ahn, C.-Y., Choi, G.-G. & Asthana, R.K. (2012). Recent trends in development of biosensors for detection of microcystin. Toxicon. 60: 878-894.
https://doi.org/10.1016/j.toxicon.2012.06.005
Sivonen, K. & Jones, G.J. (1999). Toxic Cyanobacteria in Water: A Guide to their Public Health Consequences, Monitoring and Management. Spoon, London. Pp. 41-111.
Stone, D. & Bress, W. (2007). Addressing public health risks for cyanobacteria in recreational freshwaters: the Oregon and Vermont framework. Integrated Environmental Assessment and Management, 3: 137-143.
https://doi.org/10.1002/ieam.5630030112
Tucker, C.S. (2000). Off-flavor problems in aquaculture. Reviews in Fisheries Science. 8(1): 45-88.
https://doi.org/10.1080/10641260091129170
Tucker, C.S., Hargreaves J.A. & Boyd, C.E. (2008). Best management practices for freshwater pond aquaculture. In: C. S. Tucker and J. A. Hargreaves, editors. Environmental Best Management Practices for Aquaculture. Blackwell, Ames, Iowa, USA. Pp. 151-226.
https://doi.org/10.1002/9780813818672
Vaitomaa, J., Rantala, A., Halinen, K., Rouhiaine, L., Tallberg, P., Mokelke, L. & Sivonen, K. (2003). Quantitative real-time PCR for determination of microcystin synthetase E copy numbers for Microcystis and Anabaena in lakes. Applied and Environmental Microbiology, 69: 7289-7297.
https://doi.org/10.1128/AEM.69.12.7289-7297.2003
Wnorowski, A.U. (1992). Tastes and odours in the aquatic environment: A review. Water SA, 18(3): 203-214.
Xu, Y., Wu, Z., Yu, B., Peng, X., Yu, G., Wei, Z., Wang, G. & Li, R. (2008). Non-microcystin producing Microcystis wesenbergii (Koma' rek) Koma' rek (cyanobacteria) representing a main waterbloom-forming species in Chinese waters. Environmental Pollution 156 (1), 162-167.
https://doi.org/10.1016/j.envpol.2007.12.027
Ye, W., Liu, X., Tan, J., Li, D., & Yang, H. (2009). Diversity and dynamics of microcystin-Producing cyanobacteria in China's third largest lake, Lake Taihu. Harmful Algae, 8(5): 637-644.
https://doi.org/10.1016/j.hal.2008.10.010
You, L., Cui, L.F., Liu, Z.W., Yang, B. & Huan, G.Z.F. (2007). Correlation analysis of parameters in algal growth. Environmental Science and Technology. 30(9): 42-44.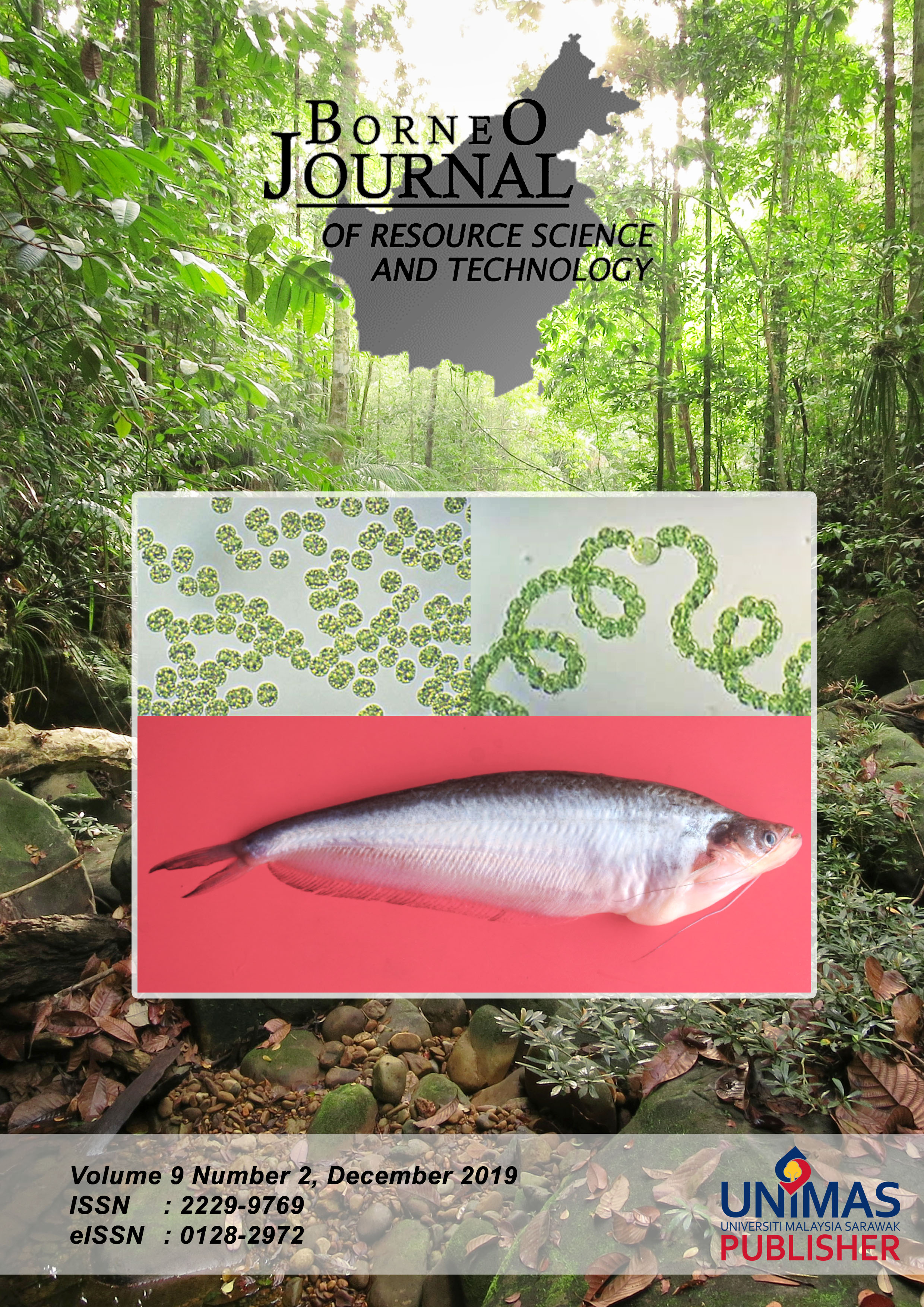 How to Cite
LIM MUI HUA, & KU KASSIM KU YAACOB. (2019). Study of Blue-Green Algae and Assessment of the Microcystin in Shrimp Aquaculture Farms in Sarawak. Borneo Journal of Resource Science and Technology, 9(2), 72-81. Retrieved from https://publisher.unimas.my/ojs/index.php/BJRST/article/view/2013
Copyright Transfer Statement for Journal
1) In signing this statement, the author(s) grant UNIMAS Publisher an exclusive license to publish their original research papers. The author(s) also grant UNIMAS Publisher permission to reproduce, recreate, translate, extract or summarize, and to distribute and display in any forms, formats, and media. The author(s) can reuse their papers in their future printed work without first requiring permission from UNIMAS Publisher, provided that the author(s) acknowledge and reference publication in the Journal.

2) For open access articles, the author(s) agree that their articles published under UNIMAS Publisher are distributed under the terms of the CC-BY-NC-SA (Creative Commons Attribution-Non Commercial-Share Alike 4.0 International License) which permits unrestricted use, distribution, and reproduction in any medium, for non-commercial purposes, provided the original work of the author(s) is properly cited.

3) For subscription articles, the author(s) agree that UNIMAS Publisher holds copyright, or an exclusive license to publish. Readers or users may view, download, print, and copy the content, for academic purposes, subject to the following conditions of use: (a) any reuse of materials is subject to permission from UNIMAS Publisher; (b) archived materials may only be used for academic research; (c) archived materials may not be used for commercial purposes, which include but not limited to monetary compensation by means of sale, resale, license, transfer of copyright, loan, etc.; and (d) archived materials may not be re-published in any part, either in print or online.

4) The author(s) is/are responsible to ensure his or her or their submitted work is original and does not infringe any existing copyright, trademark, patent, statutory right, or propriety right of others. Corresponding author(s) has (have) obtained permission from all co-authors prior to submission to the journal. Upon submission of the manuscript, the author(s) agree that no similar work has been or will be submitted or published elsewhere in any language. If submitted manuscript includes materials from others, the authors have obtained the permission from the copyright owners.

5) In signing this statement, the author(s) declare(s) that the researches in which they have conducted are in compliance with the current laws of the respective country and UNIMAS Journal Publication Ethics Policy. Any experimentation or research involving human or the use of animal samples must obtain approval from Human or Animal Ethics Committee in their respective institutions. The author(s) agree and understand that UNIMAS Publisher is not responsible for any compensational claims or failure caused by the author(s) in fulfilling the above-mentioned requirements. The author(s) must accept the responsibility for releasing their materials upon request by Chief Editor or UNIMAS Publisher.

6) The author(s) should have participated sufficiently in the work and ensured the appropriateness of the content of the article. The author(s) should also agree that he or she has no commercial attachments (e.g. patent or license arrangement, equity interest, consultancies, etc.) that might pose any conflict of interest with the submitted manuscript. The author(s) also agree to make any relevant materials and data available upon request by the editor or UNIMAS Publisher.